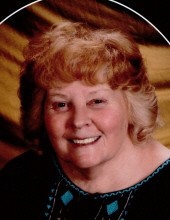 Obituary for Kay Marie Gruett
Kay Marie Gruett, age 74, of Merrill, passed away on Wednesday, February 8, 2017, at Pine Crest Nursing Home in Merrill under the care of her family, Pine Crest staff, and hospice services.

Kay Marie was born on November 11, 1942 in Merrill to the late Paul and Vernette Gruett. She was a graduate of Merrill High School and the Bethesda Lutheran Hospital School of Nursing in St. Paul, Minnesota.

After graduation from nursing school, Kay Marie married Lloyd Schallberg in 1962. They were married over 30 years and raised two children that survive her, Timothy Lloyd and Heidi Lynn.
During her 40-plus years of nursing as a Licensed Practical Nurse (LPN), she covered the life cycle, starting with working with newborn babies at the hospital where she attended nursing school. She worked with children in a burn unit at the Children's Hospital in St. Paul. She also cared for para/quadriplegic younger adults. Later she worked in medical/surgical hospital units with occasional emergency room work in Liberty, Missouri. She worked in Leavenworth, Kansas, at both a medical clinic for federal prisoners and at the Veterans Administration hospital. When she worked at the VA Hospital, she became the first LPN to be a charge nurse in the federal VA system. Kay Marie returned to Merrill to help her brother care for their mother. In Merrill she rounded out her long nursing career working at North Central Health Care in Wausau and finally at Pine Crest Nursing Home in Merrill.

Besides spending time with her family, she loved reading books, usually leaving the library with a dozen or more books. She loved watching sunsets from her living room, enjoyed playing the Steinway piano she had while living in Missouri, and loved riding as a passenger on motorcycles with trusted family and friends. Before she was recently told she was "too old," she dreamed of joining the Honor Flight team that takes veterans to Washington DC to visit their memorials. She loved the outdoors, especially caring for the lawn and flowers.
Kay Marie loved caring for others, and she believed it was the reason God placed her on Earth. She spent time in Duluth, Minnesota, helping care for the homeless of the city. For several years, she enjoyed making others smile by being a white face clown known as Violet. She loved birds and little dogs and preferred a simple life, disliking "dress up clothes." She often said, "If I had a million dollars I would give it all away."

Kay Marie was a member of Trinity Lutheran Church, where she was baptized and confirmed as a child. She also attended her first eight years of school at Trinity Lutheran School. With her strong faith, she felt she started her day with God and ended it the same way.

Kay Marie is survived by her son, Tim Schallberg, Merrill, and daughter, Heidi Schallberg (Steve Heilman), St. Paul, Minnesota; her brother, Edward Gruett; niece, Nicole Gruett (Jesse Lusher); and her very special nephew Zach, all of Merrill. She is also survived by her sister-in-law, Kathy Gruett, Merrill, who Kay Marie preferred to refer to as her sister; and nephews Daniel Gruett, Madison, and Dustin and Rachel Gruett and their children Isaiah, Samuel, Benjamin, and Elliana; and other family and friends. She lived at Jenny Towers and enjoyed the friendship of others there, especially her friend Jim Zellmer.

She was preceded in death by her parents, Paul and Vernette; twin sisters Helen and Donna; brother Carl, sister-in-law Kristine; and nephew Erik. She will be buried in the family plot in Merrill Memorial Cemetery.

Kay Marie loved and firmly believed in the following passage from Mi Sun: "The significance of oneself cannot be measured by fame and glory of this world or by the material things we have but by the love and compassion you have shown to others every day of your life, without fame or glory or thanks, just in the manner of love. Maybe all the little things we do for another is the most significant thing you and I might do in our lifetime."

A visitation will be held on Saturday, February 18, 2017, from 2 to 4 p.m. at the Taylor-Stine Funeral Home in Merrill. A memorial service will follow beginning at 4 p.m. Kay Marie requested memorials to the following organizations in lieu of flowers: Lincoln County Humane Society, the T.B. Scott Library, and the Merrill United Way earmarked for the Merrill warming center. The family wishes to extend their heartfelt thanks to the staff at Pine Crest Nursing Home and Aspirus Comfort Care and Hospice. Online condolences may be made at www.taylorstinefuneralhome.com.
Read More
Previous Events
Visitation
Taylor-Stine Funeral Home
903 E. Third St.
Merrill, WI 54452
Service
Taylor-Stine Funeral Home
903 E. Third St.
Merrill, WI 54452
Memorial Contribution
Lincoln County Humane Society
200 N. Memorial Drive
Merrill, WI 54452
T.B. Scott Library Merrill United Way for their warming center
T.B. Scott Library Merrill United Way for their warming center