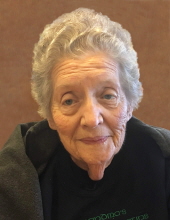 Obituary for Kathryn C. Sensenbrenner
Sensenbrenner, Kathryn C.

MADISON - Kathryn C. Sensenbrenner, age 87, of Madison, passed away on Tuesday, Jan. 5, 2021, at Stoughton Hospital. She was born on March 23, 1933, in Stambaugh, Mich., the daughter of Cleveland "Bud" and Jean "Tiny" (Walsh) Caylor.

Kathryn graduated from Our Lady of the Holy Cross High School in Merrill in 1951 and from St. Mary's School of X-Ray Technology in 1954. She worked as an x-ray technician for Monona Grove Clinic/Dean Clinic, retiring in November of 2005.

Kathryn is survived by her children, Matt (Kari) Sensenbrenner, Peter (Debra) Sensenbrenner, James (Terri) Sensenbrenner, Thad Sensenbrenner, Mary-Kate (Michael) Holzum and Kristin (Todd) Ovadal; 14 grandchildren; four great-grandchildren; sisters, Mary (Eldred) Kufahl and Margaret Oestreich of Merrill; brother, Peter (Colleen) Caylor of Fairfax Station, Va.; and sisters-in-law, Carol Caylor of Merrill and Donna Caylor of Irma.
She was preceded in death by her parents; granddaughter, Melanie Sensenbrenner; brothers, T. William (Darlene) Caylor and Michael (Kathleen) Caylor, Timothy P. Caylor and Daniel Caylor; and brother-in-law, Myron Oestreich.

Private family services will be held. Online condolences may be made at www.gundersonfh.com.
Read More