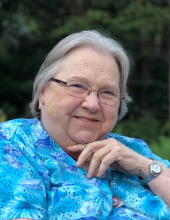 Obituary for Judith A. (Wayda) Christiansen
After some wonderful moments with members of her family, on January 4, 2021 Judith Ann (Wayda) Christiansen went peacefully to sleep and woke up in heaven with her Lord and Savior, Jesus Christ.

Judy was born on August 5th, 1935 in Kenosha, WI to the late Harley and Rose Clark. Being the eldest of five, she grew up a hard worker and understood the value of family. She went to school at Salem Central High School in Paddock Lake, WI where she graduated at the top of her class. While there, she met her husband-to-be, William D. Wayda. They married on May 2nd, 1953 and began their family. In the summer of 1972, they moved their family of nine to a dairy farm in Merrill, WI. After William's death in June of 1994, Judy met and married Glenn Christiansen in January of 1999.

Judy worked a variety of jobs over the years but said her most important and rewarding job was being a mother. She was always proud and loved her family. She especially enjoyed welcoming the little ones. Judy's special gift was making everyone feel welcomed and part of the family. She touched so many lives with her warm hugs and her listening ear. She enjoyed her daily coffee and conversation with her friends and family at Kozy Korner.

Judy was a member of St. Francis Xavier Catholic Church and a devoted Christian. Her strong faith guided her through the ups and downs of life and she always knew that God had a plan.

Left to cherish her memory are her children, Daniel (Sherry) Wayda, Deborah VanDeWeerd, Patti (Jeff) Woller, William A. (Jean) Wayda, Robert (Cristina) Wayda, Karen (Gin Snyder) Wayda, James (Ann) Wayda, and Edward (Amy) Wayda; stepchildren, Robert (Jennifer) Christiansen and Dale (Cindi) Christiansen; 20 grandchildren; 6 step grandchildren; 31 great-grandchildren, 7 step great-grandchildren and 5 great-great-grandchildren. She is also survived by her siblings, Barbara (Errol) Schmelling, Gary Clark, Janet (Ken) Hollenbeck, Mary Beth (Ken) Kramer; and a special sister in-law, Darlene Lenz.
She was welcomed to her heavenly home by her parents, Rose and Harley Clark; husband, William D. Wayda; son, Dr. Michael T. Wayda; and husband, Glenn Christiansen.

Judy's wish was to be cremated and buried with her late husband William. A celebration of life will be held at a later date.

The family would like to thank the Agrace Hospice Care in Fitchburg, WI for the exceptional care that was given to Judy and Taylor-Stine Funeral Home, Merrill, for helping with the final arrangements.
Read More
Events
Event Information
Services will be set for a future date to be determined.