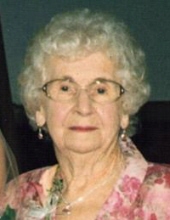 Obituary for Joy F. Heideman
Joy F. Heideman, 95, of Merrill, passed away Monday, May 9, 2022, at Pine Crest Nursing Home, Merrill.

Joy was born April 20, 1927, in the Town of Skanawan, Lincoln County, Wisconsin, daughter of the late John and Irene (Bowen) Goodfellow. She married Norman 'Jiggs' Heideman in Tomahawk and he preceded her in death on September 16, 2007.

Joy graduated from Tomahawk High School. She worked for UW Extension – Lincoln County for many years as an administrative assistant and eventually retired from there. Joy frequently told the story of her taking trips when she was younger with her father to the Lincoln County Courthouse. She loved seeing the ladies that worked there in fancy dresses, pearl necklaces, and high-heeled shoes. As a child, she wished she could someday be one of those ladies. As an adult, that wish came true for Joy.

Joy was a member of St. John Lutheran Church, Merrill. Joy was known for her gentle, kind, and loving soul. Her name was fitting because she brought so much love and sunshine to others.

Survivors include her children, Lee Mickevich (Kris Pace) of Santa Fe, New Mexico, Jody (Ronald) Geier of Hatley, and William 'Bill' Heideman of Merrill; four grandchildren, Casey Geier (Aime Long) of Wittenberg, Holly Geier of Wausau, Jennifer (Scott) Schmoldt of Rib Mountain, and Katie (Ryan) Mears of Madison; and several wonderful nieces and nephews, including special niece, Mary Ingman. She was preceded in death by her husband, Norman 'Jiggs' Heideman; parents, John and Irene Goodfellow; infant daughter, Susan Heideman; daughter and son-in-law, Barbara and Randy Hodgson; son, Terry Mickevich; grandson, Andy Geier; sister and brother-in-law, Mardelle and Einar H. Ingman Jr.; and brother and sister-in-law, Dale and Doris Goodfellow.

The memorial service for Joy Heideman will take place at 12:00 P.M., Noon, Thursday, May 26, 2022, at Taylor-Stine Funeral Home, Merrill. Rev. David Szeto will officiate. The family will receive friends beginning at 10:00 A.M. Thursday, May 26, 2022, at the funeral home. A private inurnment will take place at Merrill Memorial Park Cemetery.

The family wishes to thank Pine Crest Nursing Home and Aspirus Comfort Care & Hospice Services for the loving care they gave to Joy. They would also like to thank those who sent cards and visited Joy throughout the years.

Memorials may be directed to St. John Lutheran Church/School in honor of her love of the Lord or to the Lincoln County Humane Society in honor of her love of animals.
Read More
Previous Events
Visitation
Taylor-Stine Funeral Home
903 E. Third St.
Merrill, WI 54452
Service
Taylor-Stine Funeral Home
903 E. Third St.
Merrill, WI 54452