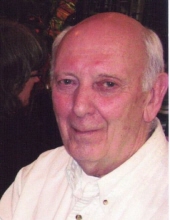 Obituary for John L. Brieden
John L. Brieden, age 89, of Merrill, passed away Monday, December 20, 2021, at Aspirus Tomahawk Hospital.

John was born August 14, 1932, in Highland Park, Illinois, son of the late John Frank and Anna (Danaubauer) Brieden. John served in the United States Air Force. He enlisted on January 23, 1952 and was honorably discharged on January 22, 1956. He married Barbara 'Irmgard' Karl on April 27, 1957, at St. James Church in Highwood, Illinois. She survives.

John worked as an electrician with IBEW Local 150 in Illinois. His work as an electrician was so good that the contractors sought him out and all the apprentices wanted to work alongside him. In Local 150, he was known at 'The Legend.' He retired at age 57 to enjoy life.

John enjoyed shooting guns at the Lincoln County Sports Club gun range. He also enjoyed pheasant hunting with his bird dogs. John especially loved hunting with his wife and always enjoyed the company. John was an outdoorsman; he taught his daughter, Audrey, how to reload bullets, how to work with the bird dogs, and about firearm safety and responsibility. He also taught Audrey common sense politics. He was a great dad to all his daughters; Audrey always said "I love you daddy," and he replied "I love you too baby."

John will be remembered as a man who had a terrific sense of humor. He was adored by everyone, especially his grandsons, and he loved his son-in-law, Jon. John loved to share stories with everyone. He knew what was important in life.

John was a member of St. James Church in Highwood, Illinois and became a member of St. Francis Xavier Catholic Church when he and Barbara moved to Merrill more than 40 years ago.

Survivors include his wife of 64 years, Barbara Brieden of Merrill; two daughters, Audrey (Jon) Sinnett of Mukwonago and Sharon Brieden of Merrill; three grandchildren, Chad (Kailey) Sinnett and their daughters Maysie and Laynie, Mike (Megan) Sinnett and their son Ian, and Clay Sinnett (Jennifer Leonard) and her daughters Holley, Riley, Lucy, and Chloe. John was preceded in death by his parents, John and Anna Brieden; and a daughter, Barbie Brieden.

A private memorial service will be held at a later date. Taylor-Stine Funeral Home & Cremation Services, Merrill, is assisting the family.
Read More
Events