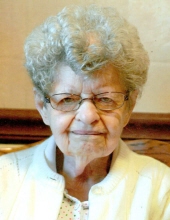 Obituary for Jermaine H. Yonke
Jermaine Helen Yonke, 87, of Merrill, died on Monday, December 2, 2019 at Pine Crest Nursing Home with family at her side.

Jermaine was born on May 20, 1932 to the late Ervin and Esther Yonke in Buena Vista, Wisconsin. Her interests included setting puzzles, playing rummy, listening to polka music and she loved to babysit for many of her nieces and nephews. She also loved to bake, 'Old Henry Bars', her favorite recipe.

Jermaine is survived by her sisters, Jeanette Lee and Marilyn Burgener; brother, Roger (Shirley) Yonke; sister-in-law, Arlene Yonke; brother-in-law, Donald Petrowski; and many nieces and nephews. Jermaine was preceded in death by her parents, Ervin and Esther Yonke; sister, Donna Petrowski; brother, Verlyn Yonke; brothers-in-law, Elmer Lee and Bill Burgener; and nephew, Gary Lee.

A private funeral service will be held. Taylor-Stine Funeral Home & Cremation Services, Merrill, is assisting the family.

Online condolences may be made at www.taylorstinefuneralhome.com

The family of Jermaine would like to thank Pine Crest Nursing Home and Hospice for their care.

In lieu of flowers, memorials may be directed to St. John Lutheran Church or School, Merrill.
Read More
Events