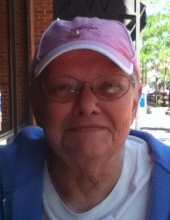 Obituary for Janice R. Hull
Janice R. Hull, age 71, of Merrill, passed away on Monday, September 5, 2016, at Aspirus Wausau Hospital, with her loving family by her side.

Janice was born October 12, 1944, in Merrill, daughter of the late Irving J. and Esther R. (Zimmerman) Hull. Janice served in the U.S. Navy in the early 1960's and was honorably discharged. She worked 18 years at Wausau Insurance, and then worked as a C.N.A. at Bell Tower Residence, Merrill, and at the time of her retirement was a school bus driver for Peterson Bus Service, Merrill. Janice enjoyed knitting, crocheting, and gardening.

Survivors include her son, Dan Hull, Merrill; two sisters, Katey Swope and Linda (Marv) Hoffman, both of Merrill; two nieces, Amanda and Kim; three nephews, Kip, John, and Jay; and several great nieces and nephews. Besides her parents, Janice is preceded in death by a brother in law, Jack Swope.

There will be no services per her request. The Taylor-Stine Funeral Home, Merrill, is assisting the family.

The Hull Family suggests that memorials be directed to the Lincoln County Humane Society or T.B. Scott Library.

Online condolences may be made at www.taylorstinefuneralhome.com.
Read More