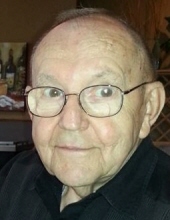 Obituary for James H. Zellmer
James H Zellmer, 91, entered eternal life at Pine Crest Nursing Home in Merrill, on November 23, 2019, under the care of Aspirus Comfort Care and Hospice Services

James was born in Merrill on May 29, 1928 to Herman & Minnie (Kopetzky) Zellmer. He met the love of his life, Joyce Gibson, when they were teenagers. After 7 years of dating, they married on July 1, 1950. She preceded him in death in 1995. Joyce and James had 5 daughters, losing one daughter to cancer in 1964.

In his efforts to support his growing family, Jim worked at a variety of jobs over the years. He began at Lincoln Cleaners. He also worked at Strassheim's, Tiny Tot, Semling & Menke, Northern Door and a stint at Quality Furnace. Those skills allowed him to help several friends and family members with furnace and duct work repairs. He retired from a small specialty wood shop, Northway Woodwork, run by his good friend, Bill Boller. In retirement, he volunteered for many years as an electronics repairman at the St. Vincent de Paul Thrift Store. He also installed the speaker system while the store was under construction and supplied a variety of big band music that was enjoyed by those early customers. Jim was a resource for friends and relatives needing help, driving his cousin Joanie and old friend, Ethel Kopp, to doctor appointments.

James had several passions in life. While his eyesight prevented him from following his brothers into the military, he always had a love of aircraft. He attended several EAA airshows and traveled to his last airshow at Offutt AFB, Nebraska, in 2014. He enjoyed electronics immensely. Whether it was the first television on his block in the early 50's, his love of recording music on whatever media was the newest trend, or his insistence on having the best components and speakers he could afford. Jim spent months in the 1990's transferring every family photograph to V.H.S. tapes, all narrated with his comments, recollections and dry sense of humor; a treasury his family will cherish for generations as those tapes have now been converted to digital media. His music collection began with reel-to-reel tapes recorded from a large record collection. Eventually everything made its way to cassette, and finally was transferred to digital media via a computer. Jim burned his entire collection to cd's, adding new music downloaded from satellite radio. He shared his love of music with friends at Jenny Towers, supplying cd's for the community room when they gathered in the evening for conversation.

James is survived by his daughters, Catherine Robinson, Rebecca (Terry) Vanden Huevel, Janice Zellmer, and Mary (Scott) Buttke. He is further survived by grandchildren, Amy (Frank) Van Alstine, John (Angel) Kleinschmidt, James (Sara) Bergh, David Kleinschmidt, Wyatt (Stacey) Buttke, and Krystine Mensching. He leaves behind great grandchildren, Cassandra and Nicholaus Kleinschmidt, Lauren Van Alstine, Alle and Ella Bergh, Jayden and Abigail Buttke. He also is survived by many nieces, nephews and their families spread around the country.

James was preceded in death by his wife Joyce, daughter Lynn, parents Herman and Minnie Zellmer, brothers Warren (Kathe) and Cyril (Wanda) Zellmer, sisters Phyllis (Glenn) Wallace and Maryann (Herb) Blair, and recently his son-in-law Bruce Robinson.

The family would like to thank Pine Crest Nursing Home, as well as Aspirus Comfort Care and Hospice Services for their wonderful support of James and the rest of the family. Your compassion and excellent care are greatly appreciated.

A funeral will be held for James on Wednesday, November 27. A public visitation will be held from 9:00 am to 11:00 am at the Taylor-Stine Funeral Home, Merrill. The Mass of Christian Burial will follow at St. Francis Xavier Catholic Church, Merrill, at 12:00 pm, noon, with burial in St. Francis Xavier Cemetery immediately following.

In lieu of flowers, the family recommends donations to St Francis Xavier Catholic School in Merrill, or Aspirus Comfort Care and Hospice Services.
Read More
Previous Events
Visitation
Taylor-Stine Funeral Home
903 E. Third St.
Merrill, WI 54452
Service
St. Francis Xavier Catholic Church
Tenth Street
Merrill, WI 54452