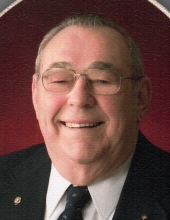 Obituary for Herbert M. Simon
Herbert M. Simon, 88, of Merrill, was welcomed into the loving arms of his Savior on February 24, 2021.

He was born on July 3, 1932 to Frank Simon and Lena (Steger) Simon in the Town of Summit, Langlade County. Herb was baptized on July 17, 1932 into the Christian Faith at St. Paul's Lutheran Church in the Town of Summit, and was confirmed on June 23, 1946 at the same church.

He attended Sunnyslope Grade School in the Town of Summit and graduated from Antigo High School in 1950.

Herb was employed at Ormsby Farms from September 1950 to February 1952 when he enlisted in the U.S. Air Force. His training was at Lackland AFB in Texas and Camp Gordon, Georgia. He was in the Air Police stationed at Laon, France for 3 years with NATO Forces. The last six months he was stationed at Offutt AFB, Nebraska. He received the National Defense Service Medal and the Good Conduct Medal.

On June 8, 1957 he married Mardell Prueser at St. Paul's Lutheran Church in Gleason, Wisconsin. They joined Trinity Lutheran Church in Merrill in 1958.

Herb was employed at the Lincoln County Highway Department for 37 years. The first 6 years he drove truck and the rest of the time he was the Part's Clerk. He retired in 1994.

Herb served his Lord as congregation chairman, Elder, Usher, Bible Class leader, the Trinity School Board, and the Gruett Scholarship Committee. For many years Herb sang in the church choir. He was also a member of the Trinity Men's Club, the American Legion Post 46 for 51 years, and was a life member of the Merrill VFW Post 1638.

Herb was an officer and team manager for 10 years with the Merrill Little League. He had been a member of the Civil Defense Police in the 1960's, and was on the Credit Committee for Park City Credit Union in the 1970's.

Herb enjoyed playing baseball for Kluball's Bar from age 13 until 1960. In his last year his batting average was.447. He also played fast pitch and slow pitch for a number of years after that. He also bowled in the Senior League until his health problems would not allow. Herb was a Brewer's and Packer's fan. Herb enjoyed deer hunting and playing cards with the hunting gang. He especially enjoyed the holiday gatherings with the family and the yearly family reunions. For many years Herb planted and tended a garden and kept the yard looking nice.

For many years after retirement, Herb took road trips, bus trips, and many trip to visit his service buddies and the Laon Air Police reunions which were held in various cities. Herb went on the Never Forgotten Honor Flight on May 18, 2014 with his granddaughter Alyssa as his guardian. He enjoyed the trip and also the welcome back at the airport by many family members and friends.

Herb is survived by his wife, Mardell Simon of Merrill; four children, Michael (Sarah) Simon of Madison, Debra (Jerry) Caldie and Denise Turckes, both of Green Bay, and Wayne Simon of West Virginia; seven grandchildren, Kara (Ben) Bruley, Desiree (Aaron) Thompson, Hilary (Seth) Merrill, Alyssa (Chase) Linsmeyer, Christian Turckes, Megan Turckes, and Zachary Simon; one step granddaughter, Abbie (Jonathan) Talley; nine great-grandchildren; and two step great-grandchildren. Herb is further survived by one sister, Louise Zahn of Shawano; four sisters-in-law, Elaine Simon, Marion Simon, Arlene Yonke, and Sandy Prueser; brother-in-law, Jerry (Sue) Prueser; and many other relatives. Herb was preceded in death by his parents; three brothers, Stephan, Edward, and Richard; two sisters, Margaret Wildman and Rosalie Bergman; five brothers-in-law, Joe Wildman, Clyde Zahn, Vinol Bergman, Verlyn Yonke, and Victor Prueser; and two sisters-in-law, Evelyn Simon and infant Kathleen Prueser.

The funeral will be at 12:00 P.M., Noon, Saturday, February 27, 2021 at Trinity Lutheran Church, Merrill. The Rev. Adam Rodriquez will officiate. Burial will take place later this spring in the Town of Summit Cemetery, Langlade County, with graveside military rites conducted by the Merrill V.F.W. Post 1638 Honor Guard. Visitation will begin at 9:00 AM Saturday at the church, located at 107 N. State Street, Merrill. Wearing a mask and social distancing will be required at the church. The Taylor-Stine Funeral Home, Merrill is assisting the family. Online condolences may be made at www.taylorstinefuneralhome.com.

The family would like to thank the health care workers at Aspirus, especially the Palliative Care Unit, as well as the Rehab Unit at Pine crest Nursing Home for the care given to Herb.

In lieu of flowers, memorials may be given to Trinity Lutheran Church or School in Merrill, or the charity of your choice.
Read More
Previous Events
Visitation
Trinity Lutheran Church
107 North State Street
Merrill, WI 54452
Service
Trinity Lutheran Church
107 North State Street
Merrill, WI 54452