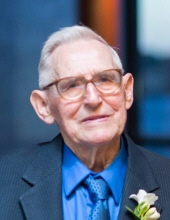 Obituary for Henry E. Kienbaum, Jr.
Henry E. Kienbaum, Jr., age 89, of Merrill, passed away on Wednesday, December 26, 2018, while residing at Woodlawn Court in Merrill.

Henry was born February 24, 1929, in the Town of Corning, son of the late Henry and Martha (Voigt) Kienbaum, Sr. He married Eldina Klebenow on September 17, 1949, in the Town of Corning. She survives. Henry had been a Dairy Farmer in the Town of Corning and also did custom combining. As a young man, Henry worked in a logging camp for Hank Krause. When Henry took over the family farm, he would farm during daylight hours and then work nights at Northern Door in Merrill. Henry was a former member of the Town of Corning Volunteer Fire Department. He, along with his wife, enjoyed traveling throughout the world; listening to polka music; square dancing; and snowmobiling.

Henry is survived by his wife, Eldina Kienbaum, Merrill; three daughters, Julie (Rick) Guzinski, Janella (Dennis) Rice, and Jill (Jeff) Hanson, all of Merrill; one son, Javis (Sue) Kienbaum, Merrill; eight grandchildren, John (Diane) Blaubach, Merrill, Sheila Magray, Arizona, Carmen (Brett) Klug, Merrill, Nicole Rice, Wausau, Jason (Erin) Kienbaum, Ohio, Shannon (Andy) Henneman, Eau Claire, Carly Hanson, Fond du Lac, and Michaela Hanson, Oregon; seven great grandchildren, Alexis, Kiera, Karson, Samantha, Allison, Logan, and Mason; one great great grandchild, Oaklynn; two sisters, Ellanora Bessey and Dorothy Bahlow, both of Merrill; one brother, Gordon (Louise) Kienbaum, Tomahawk; and many nieces and nephews. Besides his parents, Henry is preceded in death by a sister and brother in law, Rosemary (Art) Reichelt; two brothers in law, Jack Bessey and Edwin Bahlow; two nieces, Janet and Tammy; and one nephew, Mark.

Visitation for Henry will be held from 2:00 PM until 5:00 PM Tuesday, January 1, 2019, at the Taylor-Stine Funeral Home, Merrill. A private family burial will take place the next day in St. Paul's Cemetery, Town of Corning. Online condolences may be made at www.taylorstinefuneralhome.com.
Read More
Previous Events
Visitation
Taylor-Stine Funeral Home & Cremation Services
903 E. Third Street
Merrill, WI 54452