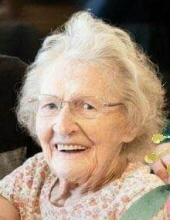 Obituary for Helen M. Kressel
Helen Mathilda Kressel became a guest at the heavenly table of her Savior on Thursday, November 26, 2020. Helen was 92 years of age having been born on October 30, 1928 at the home of her parents, Conrad G. and Mathilda M. (Weisshahn) Simon in the Town of Summit, Langlade County, Wisconsin. On November 25, 1928 she was baptized and years later confirmed on June 20, 1943, both occurring at the St. Paul Evangelical Church also in the Town of Summit. Helen grew up playing with her siblings, Paul, Dorothy, Carl and Hank and her many Simon cousins who lived nearby. She went to grade school at Sunny Slope and then onto high school at Antigo where she roomed during the week with her brother and cousins, which resulted in many stories and laughter when shared years later. She graduated from Antigo High School in June of 1946.
Helen was employed after high school at the Merrill newspaper and stayed with her Aunt Margaret (Simon) Granholm so she could walk to work. She enjoyed meeting new people and working in a clerical position and continued to do so until she married Earl Kressel on September 10, 1955 also at St. Paul's Church in the Town of Summit. They lived in Gleason and Helen took pride in being a homemaker and being a care provider for her family, not only in raising their four children, James, Ruth, Kay and Robert, but also was there for other family and friends by making and delivering food, taking to and from appointments, doing laundry and shopping and visiting those in need. She was the Mother, Aunt, Friend and Grandma that had welcome arms any hour, any day and sacrificed her time to be there for others.
Although she set her family as a priority, and routinely had other family members under her wing and in their home, she took on other positions and jobs in the community. Helen and Earl were janitors and provided maintenance for the Luther Memorial Lutheran Church for twenty years and took such pride in working in God's house of worship. Helen became known at the gatekeeper for the door and if you needed something at church, call Helen and she was there to open it. She was involved in the Gleason community as she provided custodial work for the Town of Russell Town Hall, was a member of the Luther Memorial Lutheran Church Ladies Aid for countless years, was Secretary/Treasurer of the Aid Association for Lutherans Branch 3495 for over ten years, was a Brownie-Girl Scout Leader for fifteen years, served as a Cub Scout Leader and provided assistance in doing the weekly bulletin, monthly newsletter and communion register for Luther Memorial Lutheran Church well into her 80's. It was difficult for Helen to let this service to her Lord pass along to someone else because it was a part of her commitment.
In 2017 Helen moved to Pinecrest and it was still hard for her to be on the receiving end of caregiving, but her family is thankful and grateful to the staff at Pinecrest for doing so up until her passing on Thanksgiving evening. She is survived by her four children: James (Amy) Kressel, Ruth Kressel (Douglas Summers), Kay (Tim) Donahue and Robert Kressel; her seven grandsons: Dyllan Linehan (Persia Erdrich), Jason Kressel, Adam Kressel, Joe (Valerie) Donahue, Callan (Lilly) Linehan, Nick Donahue (Kat Frye) and Gunnar Kressel; and her four great-grandsons: Blake, Cohen, Patrick and Finlley. Helen's husband, Earl passed away in 2015 after the two were married for 60 years and no doubt Helen is hoping he has a few new jokes. Her parents (Conrad and Mathilda Simon) as well as her siblings: Ruth, Hank, Paul, Carl and Dorothy (Koprek) have all pre-deceased her.
Helen began and ended her days praying and reading the Bible, which her children did for her with the help of Pastor Greg Laska as her earthly journey ended. She was a true and faithful servant of the Lord and for that reason the sorrow of her departure is helped by the beginning of her heavenly life.
Helen's funeral service will begin at 11:00 AM Saturday, December 5, 2020 at Luther Memorial Lutheran Church, Gleason. The Rev. Greg Laska will officiate. Burial will follow in Summit Cemetery, Town of Summit, Langlande County. Visitation will begin at 9:00 AM Saturday at the church. MASKS WILL BE REQUIRED AND SOCIAL DISTANCING WILL BE ENCOURAGED. The Taylor-Stine Funeral Home, Merrill is assisting the family. Online condolences may be made at www.taylorstinefuneralhome.com.
Read More
Previous Events
Visitation
Luther Memorial Lutheran Church
N5308 Town Hall Rd.
Gleason, WI 54435
Service
Luther Memorial Lutheran Church
N5308 Town Hall Rd.
Gleason, WI 54435
Cemetery Details
Location
Summit Cemetery
Langlade County Hwy. H
Town of Summit, Langlade County, WI 54435