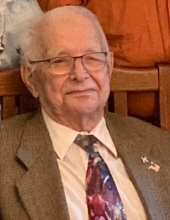 Obituary for Harry F. Dahm
Harry F. Dahm, 98, of Merrill, passed away Tuesday, November 1, 2022, at Aspirus Merrill Hospital.

Harry was born October 3, 1924, in Merrill, son of the late Harry O. and Esther (Ollhoff) Dahm. Harry enlisted in the United States Air Force on April 10,1943 and served during World War II. He started basic training at Fort Sheridan, Illinois and then spent time in Greensboro, North Carolina, Clemson University South Carolina, Providence, Rhode Island, and Denver, Colorado for administrative school. He was sent on the USS Monterey to Australia and then spent time in New Guinea and Morotai- East Indies for one year where he saw combat as a Buck Sergeant. He then finished his service in Manila, The Philippines. Harry was in the Philippines at the Clark Air Force Base for five months where he was granted a brand-new Jeep to complete his duties. In January of 1945, he was sent back to the United States. Harry attained the rank of Staff Sergeant by the time of his discharge. Harry served two years, nine months and fifteen days in the United States Air Force. He was honorably discharged on January 24, 1946.


He married Dorothy M. Raasch on September 24, 1949. She preceded him in death on June 5, 2015. Harry was one of the first board members at Park City Credit Union in Merrill. He managed the credit union from his office for the first year. Harry worked as a bookkeeper at Lincoln Hills from 1969 until his retirement in 1987. He had also worked as the general manager of Midland Cooperative for many years. Harry was a member of St. John Lutheran Church, Merrill, where he served on the Finance Committee and served as an usher. Harry was a member of the Silver "M" Club in Merrill. In 2016, he was presented with a Diamond "M". Harry had received his first Merrill High School football varsity letter in 1941. Harry was also a member of the Barber Shoppers. He delivered Meal on Wheels for over a decade. Harry enjoyed spending time with his family, fishing, and hunting.

Harry is survived by his son and daughter-in-law, Dr. Steven Dahm (Dr. Laurie Wolf-Dahm) of Merrill; three grandchildren, Jennifer Dahm of Madison, Dr. James Dahm (Dr. Krista Nelson) of Chicago, and Ryan Dahm of Geneva, Switzerland; two sisters, Carol Finanger and Marlene (Bill) Krueger both of Merrill; and several nieces and nephews. Harry was preceded in death by his wife, Dorothy Dahm; parents, Harry O. and Esther Dahm; siblings, LeRoy (Elaine) Dahm, Annette (George) Scott, James Dahm, and Harriet (Gerald) Henrich; and brother-in-law, David Finanger.

A celebration of Harry's life will be held at a later date. Taylor-Stine Funeral Home & Cremation Services, Merrill, is assisting the family.

The family requests memorials in Harry's name be made to the River Bend Trail or the Merrill Area Community Foundation.

Online condolences may be made at www.taylorstinefuneralhome.com
Read More
Events
Event Information
Services will be set for a future date to be determined.