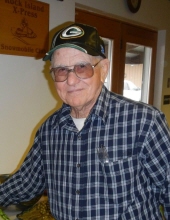 Obituary for Harold W. 'Punk' Fox
Husband, Dad, Grandpa, Great Grandpa, Uncle, Cousin, Friend. When he died on November 3, 2022, Harold Warner 'Punk' Fox answered to all those names.


Born on April 5, 1933, near Doering to Charles and Rose (Dignin) Fox, Punk was a 1951 graduate of Merrill High School. He served in the United States Army in Korea. He played baseball for the championship team in Doering. He was life-long member of Wildwood Chapel.
In 1957, Punk went to a dance at the Lakeview Ballroom, saw Marlene VanHaren sitting alone on a bench and asked her to dance. In his words, "We've been dancing ever since." He married his only girlfriend on October 19, 1957, in Pine City, MN.


They settled on a small farm in the Town of Schley, raising beef cattle and kids. When the weather was good, Punk, Marlene and the kids could be found nearly every evening, after supper, playing baseball in the front yard.


In addition to farming, Punk worked road construction for many years and was a self-employed woodsman. He also worked for the Lincoln County Forestry Department, retiring in 1995.


Punk was happiest outdoors and loved fishing, hunting, and teaching the kids how to field grounders and fly balls. There were lots of games played, songs sung, and time spent with neighbors. He loved puzzles of all kinds and showing his kids and grandkids "the way the city folks ride."


Punk is survived by Marlene, his wife of 65 years, and a family of 51, including his six children: Kari (Bob) Gregory, Allen (Pam) Fox, Karla (Dennis) Yorde, Beth Humphrey (Jim Konyn), Lynn (Jamie) Kleven, and Susan (Randy) Kolka. Twelve grandchildren: Kellie Phelps, Jessica Heidemann, Calie Ninneman, Danno Hoff, Katie Thurman, Jake Yorde, Matt Bahlow, Erin Ingersoll, Pete Johnson, Erik Johnson, Ashley Kolka-Lee, Ryan Kolka, their spouses, and 16 8/9 great grandchildren. He is also survived by one brother-in-law, Otto Tryczak, as well as many nieces, nephews, and cousins.

Punk was preceded in death by his parents, in-laws Lawrence and Grace VanHaren, siblings and their spouses: Gerry (Jim) Tomasek, Don (Mary) Fox, Sam (Shirley) Fox, Marge (Ralph) Boes, and Joyce Tryczak, nieces and nephews, as well as grandson Dave Hoff, who will forever share November 3rd with Grandpa.


The graveside memorial service will take place at 11:30 A.M., Monday, November 14, 2022, at Forest View Cemetery, Town of Vilas, Langlade County. Rev. Carolyn Saunders and Pastor Mike Zahn will co-officiate. Taylor-Stine Funeral Home & Cremation Services, Merrill, is assisting the family.

The family suggests memorials in Punk's name be directed to the Never Forgotten Honor Flight.

Online condolences may be made at www.taylorstinefuneralhome.com
Read More