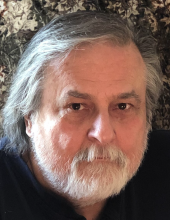 Obituary for Gregory A. Hofmann
Gregory A. Hofmann, age 68, of the Town of Scott passed away at his home on Thursday, October 1, 2020 of natural causes.

Greg was born December 17, 1951 in Merrill, son of the late Norman and Yvonne (Rathke) Hofmann. Greg had been employed at Lincoln Hills School in Irma as a Correctional Supervisor. Greg enjoyed hunting, fishing and fishing trips to Canada, being outdoors, shooting trap, riding his Harley motorcycle, the motorcycle rally in Sturgis, attending gun shows, shooting pool, and in his earlier years downhill skiing. Greg volunteered his time with the Merrill Senior High School Trap Team. Greg always enjoyed time spent with his nieces and nephews and considered them his 'grandkids'!

Greg is survived by one sister, Jenny (Roger) James of Mosinee; one brother, Thomas (Sharon) Hofmann of Merrill; three nieces, Sheila (David) Hayes and Angela (David) Lepak both of Merrill, and Jeannie Hofmann (Rachel Cox) of Raleigh, North Carolina; and five great nieces, Savannah, Morgan, Hannah, Emily, and Alex. Besides his parents, Greg is preceded in death by a nephew, Daniel Hofmann, and a niece, Merrideth Hofmann.

Burial of Greg's cremated remains will take place later this month in Snow Hill Cemetery, Town of Scott. A Celebration of Greg's Life will take place at a later date. The Taylor-Stine Funeral Home & Cremation Services, Merrill is assisting the family. Online condolences may be made at www.taylorstinefuneralhome.com.
Read More