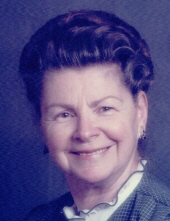 Obituary for Gloria Mary Campbell
Gloria M. Campbell, age 95, of Merrill, passed away on Friday, April 3, 2020 at the Hospice House, Wausau.

Gloria was born October 3, 1924 in Chicago, Illinois daughter of the late Paul R. and Althea F. (Lane) Keys. Gloria graduated from Thornton High School in Harvey, Illinois in 1943 and then trained to be a Civilian Inspector for the U.S.A. Signal Corps. She worked in several defense plants in the Chicago area in that capacity.

On July 3, 1946 Gloria married James K. Campbell in Homewood, Illinois. They moved to Merrill in 1947. Gloria and James were both active in the First Presbyterian Church in Merrill. Gloria served her church as a deacon, elder, Sunday school teacher, president and secretary of the Presbyterian Women, and president and secretary of the Evening Circle. Gloria volunteered at the Holy Cross Hospital, Merrill Food Pantry, H.A.V.E.N., Bell Tower Residence, and was a reader for 'First Book' later known as 'Wisconsin Bookworms'. Gloria knit countless mittens for the Headstart Program children.

Survivors include her son, James Campbell, Jr.; two daughters, Tamsley (James) Edens and Pamela (Bruce) Lee; eleven grandchildren; and 18 great grandchildren. Besides her husband and parents, Gloria is preceded in death by a daughter and son in law, Barbara (Tim) Brown; an infant grandson; and a sister.

A private family committal of Gloria's cremated remains will take place in Merrill Memorial Park Cemetery at a later date. The Taylor-Stine Funeral Home & Cremation Services, Merrill is assisting the family.

Online condolences may be made at www.taylorstinefuneralhome.com.

When tomorrow starts without me, and I'm not here to see, remember that I love you – don't think we're far apart, for every time you think of me, I'm right here in your heart.
Read More