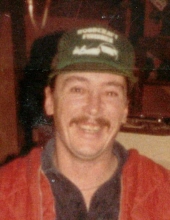 Obituary for Gerhardt 'Gary' Graap
Gerhardt S. (Gary) Graap, 66, of Merrill, passed away unexpectedly at home on Sunday, Feb. 4, 2018. Known to many as "Graapie", Gary was born on March 31, 1951, to Rinehardt and Shirley (Schneck) Graap. He married Marlene Marsceau on Nov. 26, 1977. She survives.

Gary attended school in Merrill and graduated in 1969. He worked at Woodcraft Finishes for approximately 10 years and then at Semco from 1987 to 2014. Gary was an avid Packers, Badgers and Brewers fan and enjoyed watching NASCAR races. In his younger years he played softball, shot pool and threw horseshoes. He also spent a lot of time fishing, hunting and enjoying the outdoors. Another hobby of Gary's was cooking and baking-especially making pies from scratch using apples from his own trees. He liked watching cooking programs to get new ideas and it wasn't long before Marlene designated him "House Chef". Rarely using a recipe, Gary liked to "experiment" in the kitchen. One exception to his no-recipe rule was when he made his pickled fish, then using a secret recipe. Gary also liked listening to music, especially the "Blues", and spoiling the family dogs, Skippy, Honda, Brewer and Badger.

Survivors include his wife Marlene, sons Christopher (Brandi Spychalla) and Aaron, grandchildren Alexis and Austin, his mother Shirley Graap, sisters Lesley Graap, Leanne Andzewski, Lou Wenda Peterson, Lonna Graap and Lana Graap; brothers Geoffrey and Gabriel; mother-in-law Faye Marsceau, sister-in-law's Nicole Krause, Jennifer Knight, Joanne Marsceau and Kathy Marsceau, brother-in-law's Mark Marsceau, Matt Marsceau, Mike Marsceau and Lonnie Woller, aunts Johanna Leih and Rose Lakes and many nieces, nephews and cousins. Gary was preceded in death by his father Rinehardt, sister Lorraine, brothers Garland, Gregory, Galen and Gareth, grandparents Reinhold and Johanna Graap, Pearl Russ, Aloysius Schneck, nephews Cory and Jeremy, father-in-law Eugene Marsceau, aunt Barbara Graap and uncles Lenhard Leih and Harold Graap.

A visitation (1:00 PM) and memorial service (5:00 PM) will be held At Taylor-Stine Funeral Home, Sunday, Feb. 11th with Pr. Patricia Schutz officiating. A celebration of Gary's life will be held at S & S on Sat., Feb. 17th from 3-6 pm. Taylor Stine Funeral Home and Cremation Services assisted the family.
Read More
Previous Events
Visitation
Taylor-Stine Funeral Home
903 E. Third St.
Merrill, WI 54452
Service
Taylor-Stine Funeral Home
903 E. Third St.
Merrill, WI 54452
Visitation
S&S Banquet Hall
418 Grand Ave.
Merrill, WI 54452