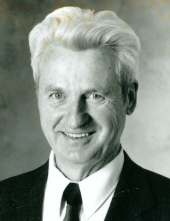 Obituary for Gerald 'Jerry' O'Connor
THE MEMORIAL SERVICE FOR GERALD O'CONNOR IS POSTPONED UNTIL FURTHER NOTICE.

Gerald P. 'Jerry' O'Connor, 89, formerly of Rothschild, passed away Friday, February 28, 2020 at Bell Tower Residence, Merrill.

Gerald was born May 11, 1930, in Culbertson, Montana, son of Charles and Mary Ellen (Buckley) O'Connor. Jerry grew up on a large cattle ranch in eastern Montana with his father's two siblings and their families. Jerry served his country in the United States Army during the Korean War. He was honorably discharged in May of 1960. He married Mabelle Kean on June 30, 1956. She survives. Jerry graduated from Marquette University in Milwaukee. He worked selling water treatment equipment to Paper Mills. He then worked as a stockbroker for Piper-Jaffray & Co. for approximately 28 years. Jerry enjoyed fishing especially the annual trips to Canada with his daughter and her family. He also enjoyed spending time with his family and visiting his daughter and son-in-law's cabin on Seven Island Lake in Harrison; he loved fishing the lake with Katie, Randy, and Becca.

Jerry is survived by his wife, Mabelle O'Connor of Merrill; daughter, Kathleen 'Katie' (Randy) Frokjer of Merrill; son, Mike (Renee) O'Connor of Texas; grandchildren, Becca (Andrew Banhozer) Frokjer, Carey O'Connor, and Nick (Olivia Guo) O'Connor; great-grandson, Mac Green; sisters, Kathleen Hagan of Williston, North Dakota and Helen Manaras of Havre, Montana; brothers, Charles 'Red' (Doris) O'Connor of Yakima, Washington and Thomas O'Connor of Albuquerque, New Mexico; and many nieces, nephews, and cousins. Jerry was preceded in death by his parents; sister, Mary (Ed) Hardy; and brothers-in-law, Bud Hagan and Roger Manaras.

A memorial mass for Gerald with be celebrated at a later date.

In lieu of flowers, memorials in Jerry's name may be made to the Lincoln County Humane Society.
Read More
Events
Event Information
Services will be set for a future date to be determined.