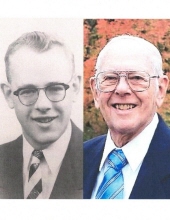 Obituary for Frederick A. Schepp
Frederick August Schepp passed away peacefully while surrounded by his family on December 28th, 2022. He was 90.
Fred was born on October 12, 1932 to Frederick H. and Evelyn C. (Dehlinger) Schepp in the town of Pine River, Lincoln County. He Married Jamie L. Birkholz on August 10, 1963 in St. Andrew's Lutheran Church, town of Goodrich, Taylor County.
Fred Graduated from Lincoln County Normal School, and then earned a Bachelor's Degree in Education from UW Stevens Point. He also earned a Masters in Education from UW Superior. Fred taught in many rural schools in both Lincoln and Marathon Counties. He enjoyed a 37 year career in Elementary Education, serving thousands of students during that time. His last 20 years teaching were in the Merrill Area Public School system.
Before his marriage he was an active member of Trinity Lutheran Church in the town of Hewitt, Marathon County, where he was a member of the youth group, a Sunday School Teacher, and organist for 10 years. As a teenager Fred was an active member of the Pine River Sunrise 4-H Club, and he also served as an adult leader in that club for several years.
Fred raised his family on an 80 acre hobby farm west of Merrill in the town of Corning. There he was an active member of Immanuel Lutheran Church, serving as Bible School Superintendent, organist, Elder, and Financial Secretary. Fred was an artist who enjoyed photography and painting with oils and acrylics. Paintings were often gifted to relatives and friends as wedding or anniversary gifts. Fred designed an extensive landscape focused on wildlife habitat around his Merrill home. His design included a rock garden with a waterfall he constructed out of rocks from the property. He transplanted many native trees, flowers, and shrubs into the landscape and purchased others that were recommended for a wildlife sanctuary. He included many flower beds and vegetable gardens into his landscape design. He often used flowers from these gardens to design floral arrangements for the altar at church. Many relatives and close friends asked him to design floral arrangements for their weddings.
Genealogy was another hobby that Fred enjoyed. He was an active member of the North Pines Genealogy Group. Over the years he has compiled an extensive genealogy record going back 8 generations. Fred was a member of the Merrill Historical Society, the Wisconsin State Genealogy Society, WEAC, WREA, and NEA RETIRED. He was a charter member of the Brickyard School Committee, working with all the first grade classes of MAPS as they visited the Brickyard School in the fall of each year. He often served as a Docent for the Merrill Historical Society's original Pinery when the elementary school groups came to the museum on class trips.
Fred is survived by son David Schepp, Neenah; daughter Kristin Weisenfeld, Merrill; Sister Karen Stolz, Wausau; Grandchildren Ryan Weisenfeld, Portland Oregon; Rebecca (Weisenfeld) Willis, Merrill; Emma Schepp, De Pere; Trista Schepp, De Pere; Great Grandchild Bennett Willis, Merrill, and many nieces and nephews. Fred was preceded in death by his wife Jamie, his parents Frederick H. and Evelyn, brothers Wayne and Lyle, nephew Kerri, and niece Michelle.
The family would like to thank the doctors and nurses on the 3rd floor of St. Mary's Hospital in Green Bay for the excellent care of Fred, as well as the caregivers and staff at both The Renaissance Assisted Living and Rennes Health and Rehab Center, De Pere.
The memorial service for Fred will be held at 10:30 A.M. on Saturday, May 6, 2023, at Immanuel Lutheran Church, Town of Corning. The Rev. Joel Danner will officiate. Visitation will begin at 9:30 A.M. Saturday at the church. Burial of Fred's cremated remains will take place in the church cemetery. Following the burial, a lunch will be held at Schult's Country Inn. Taylor-Stine Funeral Home & Cremation Services, Merrill, is assisting the family.
Online condolences may be made at www.taylorstinefuneralhome.com
Read More
Previous Events
Visitation
Immanuel Lutheran Church
N1660 Leafy Grove Road
Merrill, WI 54452
Service
Immanuel Lutheran Church
N1660 Leafy Grove Road
Merrill, WI 54452
Lunch
Schult's Country Inn
W5931 Church Ave.
Merrill, WI 54452
Cemetery Details
Location
Immanuel Lutheran Church Cemetery
N1660 Leafy Grove Road
Merrill, WI 54452