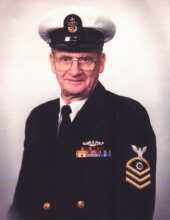 Obituary for Fred J. 'Fritz' Pester
Fred John 'Fritz' Pester, 89, of Merrill, passed away Sunday, June 7, 2020 at Pine Crest Nursing Home, Merrill.

Fred was born April 5, 1931, son of the late Kurt and Nora (Kuether) Pester. He married Carol Jean Gille on January 6, 1978. She survives. Fred attended Merrill Senior High School and in 1951 he enlisted in the United States Navy. Fred served for 21 years in the Navy on various ships, most of the ships were Diesel Submarines except the Haddo which was a Nuclear Powered Attack Submarine. He was on the Haddo when it was commissioned, Fred is also Plank Owner of the Haddo. He then went back to the Diesel Submarines. After his last ship he went to Washington D.C. for shore duty and worked for the Military Police. He retired from the Navy in 1971 and was awarded 21 years of service. Fred then went to work for Drott Manufacturing/J.I. Case and retired in 1992. When Fred and Carol retired they traveled in their motor home and spent winters in the south. Fred was a member of the Fleet Reserve Association, Merrill V.F.W. Post 1638, Haddo Submarine Base, and the Navy Club.

Fred leaves his wife, Carol Pester; two children, Arthur (Debbie) Pester and Deborah Geier; and five step children, Laurie (Michael) Germain, Michelle (Howard) Sczygelski, Jean (Thomas) Kouba, Polly (Jay) Koebe, and David Bienfang (Jenny Tesch). He is further survived by nine grandchildren; ten step grandchildren; fourteen great-grandchildren; four step great-grandchildren; and one brother, Donald Pester.

Fred was preceded in death by his daughter, Jolenne Pester; parents, Kurt and Nora Pester; brothers, Richard, William, Gus, and Roland Pester; sisters, Eleanor Loud and Emily Zemke; step son, Gary Bienfang; step daughter, Sharon Baguhn; step granddaughter, Anne Germain; and an infant step grandchild.

A private graveside service will be held.
Read More
Events