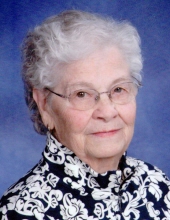 Obituary for Evelyn F. Semling
Evelyn Francis Semling, 92, of Merrill, Wisconsin, died on January 5, 2017 at Woodland Court Elder Services. She was born on February 10, 1924 in Hudson, Wisconsin the daughter of the late Rudolph and Bessie Eckert. Evelyn grew up in Eckert's Merrill West Side Bakery helping, along with her two siblings and parents, to run the business. She graduated from Our Lady of the Holy Cross High School in 1942. On August 28, 1943 she was united in marriage to Vernon James Semling at Camp Campbell, Kentucky. She followed him to various military assignments while in the states before returning to Merrill when Vernon was shipped overseas. Evelyn and Vernon enjoyed over sixty years of a loving marriage together. They resided in Merrill for many years during which Evelyn served as a Girl Scout Troop leader for ten years, served as an officer of the Alumnae Association of Our Lady of the Holy Cross High School, was the head cook for St. Robert's Elementary School, and was involved in several church groups. In 1978, Evelyn and Vernon moved to Woodruff, Wisconsin to enjoy their retirement years. During the next 35 years Evelyn was very involved in several Holy Family Church groups including the Catholic Woman's Club, often serving as an officer, and traveled to several major cities across the country, participated in the Woodruff Ladies Knights of Columbus, was a member of the Secular Franciscans, helped count the church money on Monday, knitted prayer shawls, and made baptismal gowns. In her retirement, Evelyn traveled for many winters to Florida with Vernon, and in later years with her children, and she also traveled to Mexico, Hawaii, and Alaska; trips she really enjoyed. Evelyn was an enthusiastic Badger and Packer fan, as well as, an avid fisherman. Evelyn was a loving and caring mother to her five children, from her sewing, knitting, and cooking talents to her example of a person with impeccable integrity, she gave her children many wonderful memories. Evelyn moved to Woodland Court Elder Services in Merrill in 2013 due to the additional care that she needed.

Evelyn was preceded in death by her parents; her husband, Vernon; her sister, Elaine; her brother, Emmanuel; and an infant grandson, Chad DeBroux. Survivors include two sons, Tom (Sharon) Semling of Merrill, and Scott Sr. (Norma) Semling of Eagle River; and three daughters, Jeanine (John) Allen of Madison, Jane ann (Bob) Savaske of Merrill, and Mary (Dwight) DeBroux of Boulder, Colorado. Grandchildren include, Lisa (Kallen) Krause, Amy (Craig) Mares, Stacy (James) Blattner, Rob (Erin) Savaske, Scott Jr. (Breanne) Semling, Eric Semling, Whitey (Lara) DeBroux, Luke (Stacey) DeBroux; step-grandchildren, Fritz (Paula) Allen, Mary Jane (Ed) Krinsky, Kady (Paul) Dadlez, Audrey Woods Koritzinsky; and many great-grandchildren.

The Memorial Mass will be celebrated at St. Francis Xavier Catholic Church in Merrill on Tuesday, January 10, 2017 at 11:30 A.M. Visitation will be at the church on that day beginning at 10:00 A.M. Taylor-Stine Funeral Home & Cremation Services is assisting the family with arrangements. Online condolences may be made at www.taylorstinefuneralhome.com

In lieu of flowers, the Semling family suggests donations be made to the Wisconsin Alzheimer's Disease Research Center or Wisconsin Parkinson Association.

The family would like to thank all the staff at Woodland Court Elder Services for their ongoing care and love of Evelyn with special mention of Debbie Kufahl. Also, the family would like to thank the many staff at Aspirus Comfort Care & Hospice Services for the end of life care they provided to Evelyn. In addition, the family thanks Taylor-Stine Funeral Home for their assistance in making funeral arrangements.
Read More
Previous Events
Visitation
St. Francis Xavier Catholic Church
Tenth Street
Merrill, WI 54452
Service
St. Francis Xavier Catholic Church
Tenth Street
Merrill, WI 54452