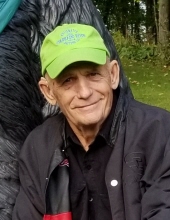 Obituary for Eugene 'Gene' Essert, Sr.
Eugene (Gene) Essert Sr, 75, of Harrison Hills, passed away at his son's home on Thursday, July 12, 2018. By his side was his son, Gene Jr., his daughter in law, Lynn, his sister, Judy, and good friend, Matt Boyle.

Gene was born on September 25, 1942 to Joseph & Irene (Van Ooyen) Essert in Antigo. Gene was the middle child of seven. Gene attended Antigo schools through the 10th grade when he entered the work force. In 1964, Gene wed Carol Boquist and they had two children, Eugene Jr and Jay. Carol and Gene were married for 19 years until their divorce. On December 7, 1984, Gene married Marlene Gipple. They enjoyed 28 years together until Marlene's death on March 24, 2013.

Survivors include his two sons, Eugene Jr (Lynn) Essert and Jay Essert; two step-sons, Scott (Sandy) Gipple and Randy (Jodi) Gipple – all of Merrill; ten grandchildren: Lindsey (Logan), Amanda (Travis), Michael, Amber (Ivan), Stacey, Dana (Rob), Lea (Aaron), Karissa, Kasi (Kurt) and Kody (Leah); 14 great-grandchildren: Lexia, Madison, Jordan, Jayden, Rowan, Merida, Lunayah, Konner, Lola, Evie, Tate, Willow, Laney and Marlene Grace; his sisters Judy, Barbara, Josephine; his brother Bill; sister-in-law Donna (Tim) Caylor; special friend Phyllis Coonen, Gene met Phyllis 4 years ago and they became close friends traveling, camping, 4 wheeling, and spending time together; good friend Matt Boyle, Matt was like a son to Gene & Marlene; and of course, Sophie, the best dog he ever had; he will miss their walks together and naps on his recliner.
He was preceded in death by his wife Marlene; his parents; a sister Caroline; and a brother Bob.

Gene moved to Doering at the age of 16 and worked on a farm. At 18, Gene went to work at Semling-Menke (Semco) making windows and doors for a few years. He then went to Anson & Gilkey making windows and doors. Gene decided to go back to farming, where he worked in Doering on a dairy farm. In 1977, Gene bought his own dairy farm in the Town of Schley. Gene continue to farm until 1986. While farming, Gene was the town chairman for 6 years and president of the L&L snowmobile club for several years. In 1986, Gene began working in the concrete business for Paul Renn Masonry in Harrison Hills. At 50, Gene decided to go into business for himself and began Essert Construction, his son Jay also joined him in the business for several years. Gene really enjoyed working construction and did that for the last 25 years until he retired at 75 years old. Many of his clients became close friends.
In 1987, Marlene and Gene bought a little blue cottage on Long Lake in Harrison Hills and this is where their love for the area really grew. They both enjoyed sharing stories, laughing, and reminiscing about all the fun and joy that little blue cottage brought them, their family, and friends. Over the following years, Gene & Marlene owned and built several places on Long Lake and in the Harrison Hills area. They developed many of their lasting friendships here. This was home.

Shortly after Marlene retired, they took a 13 week trip traveling in their 5th wheel back & forth across the country attending 10 NASCAR races and seeing the country. Gene enjoyed NASCAR, the casino (he was lucky), gambling, snowmobiling, 4 wheeling, camping, traveling, collecting old cars (about 10 years ago each of his 4 sons received an old car from his collection) and hunting in the earlier years. But most of all, Gene enjoyed drinking beer with his friends and family. He really enjoyed having people over. This was so apparent as he always had a refrigerator full of ice cold beer, every house he built had a bar, and he always left the light on.

This past year, Gene took his motorhome on a trip out to the Southeastern states for 6 months & 5 days. He met a lot of people, rode his 4 wheeler with people, and walked across the New River Bridge. He also took a cruise to Cuba to check out the old cars in June. Gene was always on the go, "Gotta Go", was a frequent saying. His last outing was on Sunday, when his son took him on a pontoon ride on Long & Bass Lake to visit some friends and have a beer on Matt's pontoon.

Gene wishes to thank his son Eugene Jr & Lynn for their excellent care over these past 3 weeks. He knows it wasn't easy for them, but he is eternally grateful for their love, willingness, support, and compassion. It was his wish that he be there and enjoy as much time as he could his family and friends. His son & daughter-in-law made that happen for him, even bringing his recliner outside so he could see who was driving up to visit and have room for Sophie by him. He is also appreciative of great care given by Hospice. Gene and his family wish that donations be directed to Aspirus Comfort Care & Hospice Services or a cause close to your heart.

It was also Gene's wishes that there be no formal service. Instead Gene wanted to celebrate life, so please join his family on Sunday, July 29, 2018, from 1pm to 5pm at the Gleason Community Center. At 2:00 PM, anyone will be invited to' share memories' of Gene.

As he learned from his close friend Toby, "One more and then I gotta go". Please stop to celebrate Gene.

The Taylor-Stine Funeral Home & Cremation Services, Merrill, is assisting the family. Online condolences may be made at www.taylorstinefuneralhome.com.
Read More
Previous Events
Visitation
Gleason Community Center
Beyer Street
Gleason, WI 54435
This "CELEBRATION OF GENE'S LIFE" WILL BE HELD AT THE GLEASON COMMUNITY CENTER. AT 2:00 PM, 'SHARE A MEMORY' OF GENE.