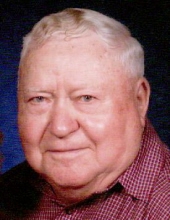 Obituary for Elgart E. Salefske
Elgart E. Salefske, age 93, of Merrill, passed away Friday, October 27, 2017 at Pine Crest Nursing Home, Merrill.

Elgart Edward Salefske was born on September 29, 1924 to Wilhelm and Anna (Kottke) Salefske.

In his younger years, Elgart logged with Leo Zastrow, his friend and neighbor, and Matt Wagner of Marathon City. He also served in the United States Navy during World War II.

In 1948, Elgart married Miriam Berndt and went to work at the co-op hauling gas. He then worked at the Studebaker Garage for seven years, moving to the Witburn Garage from there he retired after thirty-seven years.

Elgart loved to hunt and fish. One year, he shot three eight-point bucks in two days. He and his wife loved fishing up north so much, that they bought a mobile home in Arbor Vitae. They often fished Trout Lake, catching seven-to-eight pound Trout and Whitefish. Elgart believed his wife was the best fisherwoman on Trout Lake.

In 1970, Elgart and Miriam built a new home in the Oberg subdivision. They had a large garden, and sold their produce at the farmers' market for 10 years. Elgart also loved to work in the woods around his home on his beloved 8N Ford tractor.

Elgart self-taught himself taxidermy, mounting many deer horns and heads for friends and relatives. He also mounted several of the fish that he and Miriam caught.

Elgart is survived by nieces and nephews, Janean Larson, Sharon Woller, Kathy Case, Carol Berndt, Norman Berndt, Daryl Berndt and Terry Berndt; and his sister-in-law, Dorothy Berndt. He was preceded in death by his wife, Miriam Salefske; his parents, Wilhelm and Anna Salefske; his brother, Norman Salefske; his brothers-in-law, Norman (Adeline) Berndt, Lylas (Bernice) Berndt and Carlos Berndt; and his nephew, James Berndt. Elgart will be sadly missed by his family and many friends.

The funeral service for Elgart will be held at 11:00 A.M. Friday, November 3, 2017 at St. Stephens United Church of Christ, Merrill. Rev. Kyle Carnes will officiate. Burial will take place in Merrill Memorial Park Cemetery, Merrill, with graveside military rites conducted by V.F.W. Post 1638, Merrill. Visitation will begin at 9:30 A.M. Friday at the church. Taylor-Stine Funeral Home & Cremation Services, Merrill, is assisting the family with arrangements.
Read More
Previous Events
Visitation
St. Stephens United Church of Christ
903 E. Second St.
Merrill, WI 54452
Service
St. Stephens United Church of Christ
903 E. Second St.
Merrill, WI 54452