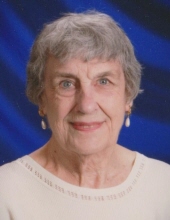 Obituary for Elaine F. Simon
Elaine Erna Florence (Hoeft) Simon, born on December 26, 1929, passed away peacefully at home and on to her eternal glory on Thursday, November 17, 2022. She is the mother of Dean (Joanne) Simon, Diane Simon, Dale (Michelle) Simon and Dan (Becci) Simon.
She is preceded in death by her parents – Alwin "Bill" Hoeft and Eleonore (Hackbarth) Hoeft, her brothers Harold and Richard Hoeft, and her husband Edward Simon.
She is survived by her children and her sister Dorothy Zima. She is also survived by her eight grandchildren – Ian (Lauren) Simon, Lena Simon and her fiancé Kalle Kutschera, Dane Simon, Grace Simon, Audrey Simon, Sarah Shuman, Benjamin Shuman, Jonathan Shuman, and one great grandchild Makari. Additionally, she is survived by sisters-in-law Pat Hoeft, Louise Zahn, Mardell Simon and Marion Simon, many cousins, nieces, nephews and friends.
Elaine graduated from Antigo High School and went on to receive a Business & Accounting degree at Oshkosh Business College. She completed a real estate licensing course and took many technical college courses.
The daughter of a potato grower, she worked at Ormsby Farms for her dad. After business school, she worked for Prudential Insurance Company in Oshkosh and Green Bay as a senior clerk. She worked for Vulcan Corporation in Antigo as a payroll clerk. Later, she worked at Church Mutual, Luebke's Office Supply, Northern Wire, Century 21 and Aspen Realty. She worked as a census enumerator in 1955, 1960, and 2010. She worked as an election polls worker in Langlade, Vilas and Lincoln Counties.
Elaine was a volunteer from early on as a Triple R Riding Club Secretary, then became an assistant leader of the Wislango Riders 4H Club in Antigo. She was a secretary for the North Wisconsin Horsemen's Association. She was her son's Cub Scout leader in Gleason. She was a helper for Friends of the Library, a docent at the Merrill Historical Society, a helper at Merrill Food Pantry and a member of the North Pines Genealogy Group.
She met Edward Simon at a friend's wedding, and they married on May 22, 1954, at St. Matthew Lutheran Church in Deerbrook, WI. Her Christian faith was dear, and she was active in Walther League and Ladies Aid now more formally known as Lutheran Women's Missionary League. She traveled to 38 states in her lifetime of 92 years. She was an avid flower grower and vegetable gardener. She enjoyed canning and baking. She was a true horse lover who watched every Triple Crown race and the Olympic Dressage events. She loved reading, genealogy research, entering fair exhibits, stopping at and running her own rummage sales, and working on jigsaw puzzles.
Elaine had survived three early battles with cancer, a bout with Lyme's disease and even a tussle with the alpha strain of Covid. She was called "Iron Woman" by one of her latest doctors when she was diagnosed with cancer once again. Her lust for life will be remembered by everyone who knew her. She will be greatly missed by her family who are waiting for that day when they see her again in heaven.
The funeral service for Elaine will be held at 10:00 A.M., Saturday, November 26, 2022, at St. John Lutheran Church, Merrill. Rev. David Szeto will officiate. Interment will take place in Town of Summit Cemetery, Langlade County. Visitation will be held from 4:00 P.M. until 7:00 P.M. on Friday, November 25, 2022, at the Taylor-Stine Funeral Home, Merrill and after 9:00 A.M. Saturday at church.
Online condolences may be made at www.taylorstinefuneralhome.com
Read More
Previous Events
Visitation
Taylor-Stine Funeral Home
903 E. Third St.
Merrill, WI 54452
Visitation
St. John Lutheran Church
1104 E. Third St.
Merrill, WI 54452
Visitation
St. John Lutheran Church
1104 E. Third St.
Merrill, WI 54452