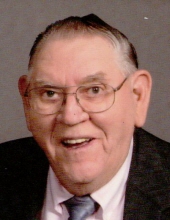 Obituary for Earl Herman Woller
Earl Herman Woller, Obituary

Trusting in his Savior Jesus Christ for his salvation and eagerly anticipating the joy of heaven that awaited him, Earl Herman Woller, 86, Merrill, left this world with his family at his side on Wednesday, April 15, 2020 at his home in Merrill, Wisconsin.

Earl was born on November 17, 1933 at his grandfather's (Herman Woller) home located at Naugart Route # 1 to Leslie and Hilda Burmeister-Woller. God gave Earl re-birth on December 17, 1933 at his baptism. He received his education at Greendale Grade School and was a 1952 graduate of Merrill High School. Earl was confirmed on March 21, 1948 at Trinity Lutheran Church, Town of Berlin. Earl married Jean Gloria Hacker on June 8, 1960 at the Methodist Church, Kaukauna, Wisconsin. She joined her husband as a member of Faith Lutheran Church (Missouri Synod), in Appleton, Wisconsin.

During his high school years Earl was active in the Future Farmers of America Association and served at the state level as its chaplain. And as an active member showed dairy cattle at the Wisconsin State Fair. After being a farmer for ten years he became an employee of Superior Electric as a lineman. He often remarked he "started at the top" (65' pole). From 1957 – 1959 Earl served his country in the U.S. Army with basic training at Ft. Leonard Wood, Missouri then transferred to Ft. Ord, California, Co. B, 41st Signal Battalion, and served as a mail clerk with a rank of Specialist IV. Upon his military obligation he returned to Superior Electric for another eight years, then moved on to Wisconsin Public Service (1964) as a lineman and construction inspector and after 30 years retired as a Construction Technician.

Earl and Jean's love to travel took them throughout the United States and Canada.
Earl was an active member at Pilgrim Lutheran Church, as a trustee, an elder and first president of the pre-school. He was a charter member of the North East Wisconsin (N.E.W.) High School and enjoyed membership in the N.E.W. Booster Club. Being a bass singer, he loved singing with his church choir.

A mutual friend introduced Earl to Roy Rothensberger, a woodworking instructor at the Reformatory in Green Bay. Roy got Earl enthused in trying some religious carvings starting with his much-loved Praying Hands – gifting numerous pieces to many friends and family. Earl preferred carving religious pieces – his favorite was the scene of Jesus, the Good Shepherd. In recent years he made religious Christmas tree ornaments and has gifted those to hundreds of people each year. He had enjoyment giving these ornaments at special occasions even to people on the street. One of his greatest joys was to demonstrate his handiwork. He was a member of a German ethnic group - the Pommerscher Verein of Central Wisconsin (PVCW) an avenue in which he could share his talent. Earl, being very proud of his Pomeranian heritage, always enjoyed speaking the regional language of his Pomeranian ancestors, Plattdὕὕtsch (Low German). Having not spoken or used the language for more than thirty years he picked it up and enjoyed full conversations with friends in Platt. He also enjoyed serving on the board of directors of the PVCW.

Our Lord took Jean home On November 15, 2005. After a few years Earl married his cousin Gordon Woller's widow, Jalaine Woller on April 21, 2007 at Trinity Lutheran Church (WELS), Town of Berlin, at which time he became a member of the congregation.

Survivors include his loving wife, Jalaine of Merrill; his daughter, Loria Bouche (Scott) of Oshkosh, WI; Grandchild, Sergei Bouche; Brother, Roger (Millie) Woller of Mankato, MN along with nieces and nephews; his step-children; Dean (Linda) of Merrill, Todd (Lana) of Pleasant Prairie, WI; Lisa Koenig of Green Bay; Jon (Lynn) of Merrill; Kent (Tami) of Belleville; Dawn Soczka, step daughter-in-law; along with 16 step grandchildren and 8 step great-grandchildren. Earl was preceded in death by an infant sister; his wife, Jean; his parents, Leslie and Hilda Woller; and stepson, Craig Woller.

The memorial service will take place at 12:00 P.M., Noon, on Sunday, August 2, 2020 at Trinity Ev. Lutheran Church, Town of Berlin. Private family entombment took place in Shrine of the Good Sheperd Mausoleum, Green Bay. Visitation will begin at 11:00 A.M. Sunday at the church. Taylor-Stine Funeral Home & Cremation Services, Merrill, is assisting the family.

Memorials may be directed to Trinity Lutheran Church, Northland Lutheran High School, Pilgrim Lutheran Church, N.E.W. Lutheran High School, Pommerscher Verein of Central Wisconsin, Aspirus Comfort Care & Hospice Services, or charity of your choice.

Online condolences may be expressed at www.taylorstinefuneralhome.com.
Read More
Previous Events
Visitation
Trinity Ev. Lutheran Church - Berlin
137801 Co. Rd. FF
Merrill, WI 54452
Service
Trinity Ev. Lutheran Church - Berlin
137801 Co. Rd. FF
Merrill, WI 54452