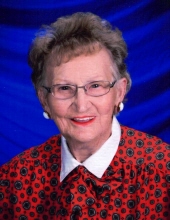 Obituary for Dorothy M. Berndt
Dorothy M. Berndt, 94, of Merrill, passed away Monday, July 27, 2020 at Bell Tower Residence, Merrill.

Dorothy was born March 30, 1926, in Merrill, daughter of the late Elmer and Minnie (Kienbaum) Henrich. In 1930, her family moved out to a farm in the Town of Scott. She attended the former Fairview School and then Merrill High School for two years. She then stayed at home to help her dad on the farm. Dorothy married Kenneth Berndt on April 3, 1948. He preceded her in death on June 10, 1998.

Dorothy and Kenneth lived on the Berndt farm, where she helped with farm work and raised chickens. They were members of St. Paul's Church in the Town of Corning and over the years she helped take care of St. Paul's Cemetery. When the church disbanded, Dorothy and Kenneth became members of St. Stephens United Church of Christ in Merrill. Dorothy had various jobs over the years. She worked at Weinbrenner Shoe Company, the former Scott School, the cranberry marsh, and Semco.

Dorothy was an avid crocheter and made many personalized doilies. She also quilted at home and for church projects. Dorothy had a large garden and enjoyed canning everything. She was well known for her canned pickles and canned venison. Dorothy also made homemade dandelion wine and beet wine. She enjoyed dancing and listening to Polka music.

Survivors include her sons, Kenneth (Susan) Berndt, Jr. of Rib Mountain, Mike (Sandy) Berndt of Merrill, and Mark (Sharon) Berndt of Marathon; ten grandchildren, Brian (Rebecca) Roeder, Connie (Konrath) Kais, Anne (Jeremy) Peters, Christopher Berndt, Jennifer (Corey) Meyer, John Fleischman, Bryan (Marie) Berndt, Lisa Berndt, Katie (Justin) Wright, and Kurt Berndt; 22 great-grandchildren; one great-great-grandson; four sisters, Jane Graveen of Wausau, Florence Henrich of Green Bay, Lucille Jarvi of Green Bay, and Elmira (Jerry) Krause of Merrill; and one sister-in-law, Ruth Henrich of Schofield. Dorothy was preceded in death by her husband, Kenneth Berndt; parents; grandson, Jesse Fleischman; brother, Art Henrich; and brothers-in-law, Franklin Graveen and John Jarvi.

A private funeral service will be held. Burial will take place in St. Paul Cemetery, Town of Corning. Taylor-Stine Funeral Home & Cremation Services is assisting the family. Online condolences may be made at www.taylorstinefuneralhome.com

In lieu of flowers, memorials may be directed to St. Paul Cemetery Fund, Bell Tower Residence, or St. Stephens United Church of Christ.
Read More
Events