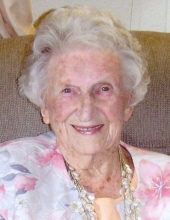 Obituary for Dorothy Gustavson
On October 18, 2018 our dear Mother, Dorothy Gustavson met her goal which was to live to be 100 years old. On December 15, 2018 Mother left this world to join our father Sven.

Mother was born in Merrill on October 18, 1918 to the late Bert and Emma Kohl Hunt. She spent her youth on Thomas Street in the 6th Ward. She often mentioned of walking across the long bridges of the Wisconsin River to and from school in the frigid winter weather.

One winter day as Mother walked home from school, a spark from the chimney started the roof of her home on fire. Dorothy jumped into action filling several buckets from the hand pump and getting a ladder. She managed to put out the fire and save her home.

On a Saturday night dance at the Corning ballroom, a handsome Swede caught Mother's eye. He asked her to dance. As Mother's story goes, she could barely understand him, his English was not good but he sure was a good dancer. On November 23, 1936 Dorothy Hunt married Sven Gustavson, the handsome Swede she met that night. This union lasted 65 years until Father passed away at the age of 92.

Our parents first home was on Summer Street in Wausau. Their first 3 children were born in Wausau. In 1946, the employees of Marathon Electric went on strike and with no settlement in sight Sven and Dorothy moved their family to a small farm north of Merrill.

In time, they bought the farm from Sven's uncle. Two more little sisters joined the family. Mother now with 5 children and a home to care for also became a gardener, a vegetable canner, a tractor driver, a cow milker, a hay maker, an egg collector, a cooker for a thrashing crew and any other farm chores that needed to be done.

As her children got older Mother had more time. She belonged to a Home Makers Club. She and Father visited with friends and played cards. Into her 60's she organized a women's exercise club. For many years she lovingly cared for her grandchildren. Son Larry bought the farm and Mom and Dad took several trips back to his home country of Sweden and other U.S. interests.

Mother is survived by her 5 children, Sonya (John) Yellstrom of Howards Grove, WI, Eugene (Gloria) Gustavson of Kronenwetter, Larry (Lavonne) Gustavson of Merrill, Susan (Steve) Lambrecht of Merrill and Sherry (Dean) Berndt of Merrill; grandchildren, Kathy (Ryan) Herzog, Mark Yellstrom, Erik Yellstrom (Jodi Ledger), Kim (Mark) McCarron, Tara (Dan) Frega, Brian (Melinda) Gustavson, Laura (Bill) Zaucha, Lynn (Scott) Slais, Stacey (Ryan) Smrecek, Stephanie Lambrecht, Michael Lambrecht, Marcy (Nick) Hinz, Jenny (Mitch) Block and Jason Berndt; 18 great-grandchildren; 5 great-great-grandchildren; and her sister, Fern Woller of Merrill. Dorothy was preceded in death by her husband, Sven Gustavson; parents, Bert and Emma Hunt; 1 grandson-in-law; 1 great-grandson; and siblings, Archie, Florence, Leslie, Muriel and Lila.

A private funeral service was held. Taylor-Stine Funeral Home & Cremation Services assisted the family.
Read More
Events