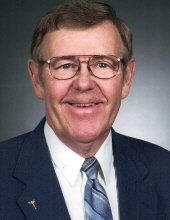 Obituary for Donald W. Hoff
Donald W. Hoff, 85, of Tomahawk, passed away February 24, 2022, at Mt. View Care Center with his wife and brother-in-law by his side. He was under the care of Aspirus Comfort Care & Hospice Services.

Donald was born August 5, 1936, in Lincoln County, son of the late Walter and Agnes (Woller) Hoff. Donald was baptized and confirmed by Pastor Piehler at the former Zion Lutheran Church, Town of Maine, Marathon County. Donald attended Byron Valley Elementary School and graduated from Wausau East High School with the class of 1954. Donald married Elaine L. (Schulz) July 11, 1959. She survives.

Don enlisted in the United States Army in 1955. After basic training, he was stationed in Berlin, Germany for 18 months. He was honorably discharged in 1957. After the Army, he worked at the Anderson Bros. & Johnson Quarry with his father. He worked at the quarry for 46 years and was also part owner for five years. Don retired in 2001.

Don and Elaine moved to their retirement home on Lake Alice in 2000. Don enjoyed fishing on Lake Alice and was a member of the Lake Alice Association.

Don and Elaine enjoyed traveling, whether it was traveling in the United States or foreign countries. They enjoyed exploring Germany and other parts of Europe, Australia, and Hawaii.

Don also enjoyed bowling. He bowled some 700 series and bowled three 300 games. Don was a member of the USBC Bowling Association, Merrill Men's Bowling Association, and Merrill's 700 Bowling Club. Don was inducted into the Merrill Bowling Hall of Fame in 1998.

Don enjoyed woodworking and designed many woodworking projects. He loved to make many woodworking projects for his church. He also like working on projects for his wife's school students and her bowling friends.

Don liked attending Milwaukee Brewer games and watching the games on T.V. He also enjoyed watching and attending Green Bay Packer games and Wisconsin Badger games. He and his wife would attend one away Packer game with a tour group each year. Don also enjoyed gardening, and listening to and dancing to polka music.

Don was a longtime member of Faith Lutheran Church – Village of Maine and served as an Elder and was on the Board of Properties. He was also a member of the Church Council. Don was a member of The Lutheran Laymen's League and The Lutheran Hour Ministries. He received the Lutheran Hour Ambassador of the Year Award. After moving to Tomahawk, Don attended St. Paul Lutheran Church and was an Elder and on the Board of Properties.

Don was a loving husband and had a very pleasant personality. Although Don was interested in bowling and traveling, his personal interest was being a good Christian, attending church, and Bible classes to learn more about his Savior Jesus Christ.

Survivors include his wife of 63 years, Elaine Hoff of Tomahawk; sisters-in-law, Dorothy Hagedorn of Merrill, Ruth Buck of Merrill, and Barbara Turner of Florida; and brothers-in-law, Ralph (Bernice) Schulz of Merrill, and Jerome (Carol) Schulz of Waupaca. Don is also survived by many cherished nieces and nephews. Don was preceded in death by his parents, Walter and Agnes Hoff.

The funeral service for Don will be held at 11:00 A.M., Saturday, March 5, 2022, at Faith Lutheran Church, Village of Maine, Marathon County. Rev. Stephen Gillet will officiate. Burial will take place in Maple Grove Cemetery, Village of Maine. The family will receive friends beginning at 9:00 A.M. Saturday at the church. Taylor-Stine Funeral Home & Cremation Services, Merrill, is assisting the family.

The family would like to thank Mt. View Care Center and Aspirus Comfort Care & Hospice Services for the loving care they gave Don.

Memorials may be directed to: Lutheran Hour Ministries, Orphan Grain Train, or St. Paul Lutheran Church – Tomahawk.
Read More
Previous Events
Visitation
Faith Lutheran Church
15425 South County Rd. K.
Town of Maine, Marathon County, WI 54452
Service
Faith Lutheran Church
15425 South County Rd. K.
Town of Maine, Marathon County, WI 54452