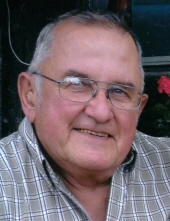 Obituary for Donald F. Buntrock
Donald F. Buntrock, 80, of Merrill, passed away Saturday, March 14, 2020 at Bell Tower Residence, Merrill.

Donald was born December 31, 1939, in Merrill, son of the late Fred and Loretta (Bade) Buntrock. He married Judith Saeger on September 12, 1959 and they recently celebrated their 60th wedding anniversary. Don enlisted in the National Guard and was called up during the Berlin Crisis in 1960. His home base was Fort Lewis, Washington. After his honorable discharge, Don worked at the former Page Milk and Merrill Woolen Mills. He then went to work at Wausau Papers – Brokaw as a maintenance oiler. Don enjoyed the outdoors and loved hunting and fishing. He especially enjoyed Trout fishing and always looked forward to the opening day of the season. Don also liked cutting wood, woodworking, and spending time at his shack in Newwood.

Don loved to polka dance with Judy. He enjoyed taking the family on vacations out west and special visits to see his daughter, Cindy, on the east coast. In 2017, his son, Breck, accompanied him on the Never Forgotten Honor Flight; a very meaningful trip for both veterans. Don was a member of Trinity Lutheran Church, Merrill.

Survivors include his wife, Judy Buntrock of Merrill; daughters, Cindy (Kevin) Kunkel of Summerville, South Carolina, Sara (Rob) Grefe of Merrill, and Dana (Todd) Wegner of Wauwatosa; son, Breck (Karen) Buntrock of Merrill; and grandchildren, Keidrian Kunkel, Ryan (Courtney) Grefe, Eryn Grefe (Logan Lange), Kellin (Sydney) Kunkel, Isaac (Lexi) Buntrock, Hayden Wegner, and Benjamin Wegner. Don was preceded in death by his parents, Fred and Loretta Buntrock; and a great-granddaughter, Kamryn Raye.

A private service will be held at a later date. Taylor-Stine Funeral Home & Cremation Services, Merrill, is assisting the family with arrangements.
Read More
Events