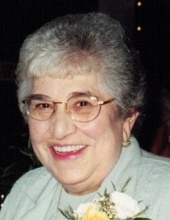 Obituary for Demetria 'Tulie' Jameson
Demetria 'Tulie' Jameson, age 90, passed away on Monday, October 26, 2020 at her home under the care of her loving family and hospice services.

Tulie was born July 3, 1930 in Galena, Illinois daughter of the late Nickolas and Caliope (Vortos) Menegas. She married Charles Robert 'Bob' Jameson on August 15, 1950 in Milwaukee. He preceded her in death on August 26, 2007. For many years Tulie had worked in the medical records department at the former Holy Cross Hospital, Merrill. Tulie was the first coordinator of the Foster Grandparent Program at Lincoln Hills School, Irma. Her children remember her fondly as being a great cook, a great dancer, and a wife and mother whose family was very important to her. Tulie was a member of Christ United Methodist Church, Merrill.

Survivors include two daughters, Patricia (Don) Rossman of Escondido, California, and Mary Jo (Jay) Millenbah of Merrill; two sons, Michael (Nora) Jameson of Waupaca, and Jeffrey (Dawn) Jameson of Merrill; eight grandchildren Brenda, Steven, Ryan, John, Nick, Amber, Ashley, and Carson; one step grandson, Adam; six great-grandchildren, Sophia, Marley, Aaron, Brandon, Benjamin, and Maxwell; and two sisters, Irene Beadle and Lila Heim both of Galena, Illinois. Tulie was preceded in death by her husband, Charles 'Bob' Jameson; parents, Nickolas and Caliope Menegas; grandson, Charlie Jameson; and siblings, Harry, Frances, Theodora, and George.

A private family memorial service will be held at the Taylor-Stine Funeral Home, Merrill.

Online condolences may be made at www.taylorstinefuneralhome.com.
Read More
Events