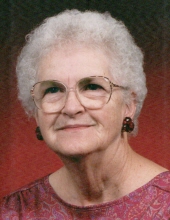 Obituary for Delores M. Heise
Delores M. Heise, 92, of Merrill, passed away Wednesday, March 21, 2018 at Bell Tower Residence, Merrill.

Delores was born December 25, 1925 in Merrill, daughter of the late Myron and Emma (Howard) Combs. She graduated from Merrill High School in 1943. Delores married Gilbert Heise on April 29, 1944 in Merrill. He preceded her in death on July 26, 1985. Delores was a stay at home mom. In addition to raising her five children, she enjoyed archery, golf and bowling.

Delores was a member of the Lincoln Bow Hunters and the Rib Mountain Bow Hunters. She received many awards for her archery skills and at one point was a state champion. She also served as the secretary/treasurer for the Lincoln Bow Hunters. Delores enjoyed golfing and took great pride in being invited to play in the NewsChannel 7 Golf Classic several times. Delores also enjoyed watching sports on television, and playing cards and board games. She was a member of St. Stephens United Church of Christ, Merrill.

Survivors include her daughters, Sharon Damrow of Weston, Judith (Ray) Schave of Park Falls, Sue Dorava of Merrill and Debra (Marvin Clark) Heise-Clark of Sparta; son, Kent Heise of Little Falls, MN; grandchildren, Kevin (Denise) Krueger, Karri Krueger, Kraig Krueger, Jason (Mary Jo) Schave, Cole (Tiffany) Schave, Nathan Schave, Lori (Roger) Volker, David Dorava, Scott (Patty) Clark and Jody Harter (Jason Haag); great-grandchildren, Olivia Volker, Emma Volker, Brayden Schave, Joshua Clark, Ethan Clark, Aayliah Spagnola and Matthew Harter; and several other relatives. Delores was preceded in death by her husband, Gilbert Heise; parents, Myron and Emma Combs; son-in-law, Robert Dorava; and siblings, Eleanor Pierce, Haze Buege, Marvin Combs and Roger Combs.

A private service will be held. Taylor-Stine Funeral Home & Cremation Services is assisting the family with arrangements.

Delores' family suggests memorials be made to the Lincoln County Humane Society.
Read More
Events