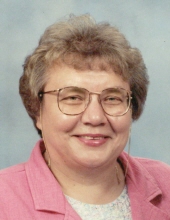 Obituary for Delores A. Iwen
Delores A. Iwen, age 81, passed away on Tuesday, November 8, 2016, at Bell Tower Residence, Merrill.

Delores was born August 12, 1935, in Wausau, daughter of the late Walter and Dora (Warner) Gritzmacher. She married Charles 'Jim' Iwen on July 3, 1954. He preceded her in death on September 3, 2005. Delores was a 1953 graduate of Wausau Senior High School. She had been employed in the office at Murray Machinery, Wausau, for 30 years. Delores also managed the Island Place Retirement complex during its construction and first years of leasing. In 1971 Delores and Jim built their four season's cabin on Upper Kaubashine Lake in Hazelhurst, Wisconsin. At the cabin they made many friends and had many fun times. Delores was the secretary of Upper Kaubashine Property Owners Association. Delores enjoyed snowmobiling, cross country skiing, knitting, quilting, playing cards on the computer, fishing, boating, and raising German Shorthair dogs. Delores and Jim attended many auctions collecting antiques. They were members of the Red Wing Collector's Club. Delores was a member of St. Stephens United Church of Christ, Merrill, and their quilting club. She volunteered at St. Vincent in Merrill for several years, and was the former secretary and treasurer of the Marathon County chapter of MADD. In 1990, Delores and Jim sold the cabin and their home in Wausau and built their dream home on the Prairie River north of Merrill. Delores moved to Bell Tower Residence in 2011. Delores was a very caring person who always put everyone else's needs before her own. She believed in the 'Golden Rule'.

Delores is survived by one sister, Fern (Lyle) Whiting, Merrill; one brother, Earl Gritzmacher, Mosinee; and many nieces and nephews. Besides her husband and parents, Delores is preceded in death by her sister and brother in law, Verna and Wayne Goetsch; and a sister in law, Lorraine Gritzmacher.

A private family graveside service for Delores will be held at Pine Grove Cemetery, Wausau. The Taylor-Stine Funeral Home, Merrill, is assisting the family. Online condolences may be made at www.taylorstinefuneralhome.com.

Memorial gifts may be directed to St. Stephens United Church of Christ, Merrill, or the Merrill Food Pantry.
Read More
Memorial Contribution