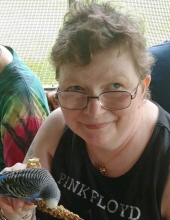 Obituary for Debbie K. Bernhard
Debbie K. Bernhard, 58, of Merrill, passed away Saturday, April 9, 2022, at Pine Crest Nursing Home, Merrill.

Debbie was born September 10, 1963, in Merrill, daughter of the late John and Ellen (Wegner) Neuwirth. She married Jay Bernhard on May 2, 1998. He survives. Debbie graduated from UW-Oshkosh with a degree in Psychology. She was employed for several years at Lincoln Hills School in Irma. Debbie eventually took a job at Wal-Mart in Merrill and retired in 2017 after being with the company for over 20 years. She had worked in the jewelry department and the apparel department.

Debbie's biggest interest was horses. She enjoyed watching horse races, but even more so, she enjoyed researching the background of the horses involved in the races. For her 50th birthday, Debbie and Jay traveled to Kentucky and visited 'Claiborne Farms' where the Kentucky Derby winner Secretariat lived and was laid to rest. Debbie also took great interest in Tinners Way, the last of Secretariat's sons. While in Kentucky, Debbie and Jay also visited 'Old Friends Thoroughbred Retirement Farm,' where thoroughbred racehorses would spend their last years.

Debbie loved all animals, especially her dogs, cats, and birds. She was a big supporter of the Lincoln County Humane Society and the ASPCA. Debbie also enjoyed watching investigative shows on T.V. She was a huge Wisconsin Badger Football fan and loved watching the games and listening to them on the radio. She followed several of the former Badgers players on their journeys into the N.F.L. Debbie loved jewelry and for a time, she enjoyed watching NASCAR races.

Survivors include her husband, Jay Bernhard of Merrill; son, Caiden Bernhard (Tyler Herdt) of Merrill; sister, Shari Crowell of Lafayette, Indiana; brother, John (Lee Ann) Neuwirth of Mundelein, Illinois; and half-sister, Kathy Tyrrell of Merrill. Debbie was preceded in death by her parents, John and Ellen Neuwirth; sister, Robin Lynn Neuwirth; and brother-in-law, John Crowell.

Per Debbie's wishes no service will be held.

Taylor-Stine Funeral Home & Cremation Services, Merrill, is assisting the family.
Read More
Events
Event Information
Cremation has taken place.