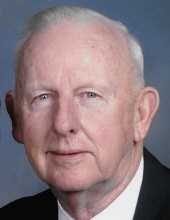 Obituary for David F. Jackson
David Jackson, 89, of Gleason, WI passed away peacefully on Sunday, January 29th with family by his side and under the care of Aspirus Comfort Care and Hospice Services. David was born on January 18, 1934 to Floyd and Connie (Rajek) Jackson at his maternal grandparents' farm in Pine River. He grew up in Parrish WI, and in his boyhood enjoyed fishing, hunting, and hiking, activities he would enjoy all through his life. He graduated from Rhinelander High School in 1952 and took his first job at the Rhinelander paper mill. Dave served in the armed forces during the Korean War, stationed in Alaska.
He then took a job with the Wisconsin Conservation Department (later known as the DNR) working out of their Merrill office as a forestry technician, and spent the rest of his career there.
He married Edna Schielke in 1958, and together they raised two sons at their home on the Prairie River in Gleason, where they lived for many years. Dave taught his two sons from a young age the value of forestland and its careful management. He was an avid outdoorsman, hunter, fisherman and trapper, collecting many pelts and trophies along the way. He especially enjoyed snowshoeing during the winters.
At age 40 and while working full time, he took classes at Menard College in Merrill, and later commuted to the University of Wisconsin – Stevens Point, where he earned a degree in Forestry. He became a forester for the DNR, and later also served as deputy game warden.
Dave became involved in the Christmas tree business by cutting wild balsams with his good friend Ole Hanson. He developed his own tree farm over the years to include many acres of balsam and fraser fir, doing all the shearing first by himself, and in later years with his sons.
Dave was very involved in his community, serving on the Gleason Volunteer Fire Department --acting as chief for several years – and also served in the western states fighting forest fires. He was one of the founders and builders of the Harrison Hills Ski Area in the 1970's, and spent many happy hours working and skiing there. He was elected to the Lincoln County Board for a term as the Town of Russell supervisor, and was also active in Crimestoppers.
Dave will be remembered as a kind, gentle, positive, disciplined, thoughtful and loving father, husband, grandfather, and uncle and a loyal and caring friend. He passed along his deep love of nature and the outdoors to his family and his many friends. He was a lifelong member of the Merrill Christian Science Society.
Dave was preceded in death by his parents, sister Carol Young, wife Edna, son Steven Jackson, in-laws Edward and Florence Schielke, and sisters-in-law Marjorie (Harold) Rajek and Mary (Joe) Heller.
He is survived by his son Dan Jackson (Mary Bauman), daughter-in-law Heidi Jackson, granddaughters Katie Jackson (Mike Suick) with great-grandson Jackson Frappy, and Molly (Rachel) Gillis with great grandson Julian Gillis. He is further survived by brother in law Tom Young, nieces Mary Jo Rajek, Amy Hanneman, Julie Fries, Pam Young and nephew Scott Young.
His family wishes to thank the caregivers who so lovingly cared for him at home the last few years, especially Jean Riehle, Tammy Cohrs and Alan Bessette.
Per David's wishes, there will be a family celebration of life at a later date.
Memorials may be directed to the Arbor Day Foundation, or a veteran's charity of your choice.
Taylor Stine Funeral Home & Cremation Services, Merrill is assisting the family.
Online condolences may be made at www.taylorstinefuneralhome.com
Read More