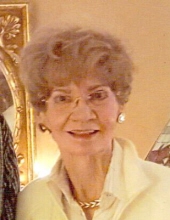 Obituary for Darlene L. 'Tootie' Slewitzke
Surrounded by family, Darlene Slewitzke's eternal life began on October 7, 2019.

Darlene was born on October 4, 1936. Her proud parents were Erna and Herbert Juhlke. She grew up on a farm in rural Merrill with her two sisters, June and Dawn, and attended a one-room schoolhouse. Darlene graduated from Merrill High School in 1954. On March 22, 1957, she married John Slewitzke and they were blessed with twin daughters, Dawn and Debra. When the twins were young, Darlene was a homemaker. Later she was employed at Sears in Merrill and then Wausau Insurance.

Darlene loved to plant flowers around their house in the summer and she couldn't resist a good rummage sale. She found great joy in decorating their home and preparing wonderful meals for her family on holidays, especially at Christmas. She had a way of making it special for everyone. Darlene enjoyed camping, snowmobiling, and Packer games with family and friends. Later, Darlene and John watched Brewer games together at home

Darlene had a strong faith and loved the Lord. She was a member of Christ Evangelical Lutheran Church, Merrill, where she participated in bible classes and volunteered at their thrift store, Dime & Dollar.

Darlene and John enjoyed traveling in their motorhome, seeing the countryside and visiting friends out west. Later, they spent winters in Florida staying in senior communities and rental properties. There, Darlene joined classes, went to potluck get-togethers and made lifelong friends. Darlene had an open and free spirit and could strike up a conversation with anyone.

Darlene's grandchildren were very special to her. She had a wonderful playfulness and sense of humor with them that they loved. She loved spending time with them. She and John would travel to Waukesha and New Berlin to attend ballet and piano recitals; choir, band and jazz concerts; and Christmas plays. They visited their grandchildren as much as possible. During the time she and John were in Florida, she always welcomed the visits from her children and grandchildren. She and John went to Disney Parks, Sea World, Busch Garden and the beaches with the grandchildren. Never tiring and enjoying every minute! In the past three years, Darlene was also blessed with two beautiful great-granddaughters.

Survivors include her twin daughters, Dawn (Gerald) Anderson of New Berlin and Debra (David) Kurtz of Waukesha; two grandchildren, Kelly (Richard) Kurtz-Raney and Evan Anderson; two great-granddaughters, Amelia and Lily Raney; and two sisters, Dawn Evanson of Tomahawk and June Cizek of Weston. Darlene was preceded in death by her husband, John; her parents, Herbert and Erna Juhlke; and a sister-in-law, Dorothy Slewitzke.

A private funeral will be held. Taylor-Stine Funeral Home & Cremation Services, Merrill, is assisting the family. Online condolences may be made at www.taylorstinefuneralhome.com

In lieu of flowers, memorials to the family are appreciated. A memorial in Darlene's name will be made at a later date.

THE OCTOBER 9, 2019 EDITION OF THE FOTO NEWS IS INCORRECT. WE APOLOGIZE FOR ANY INCONVENIENCE.
Read More
Events