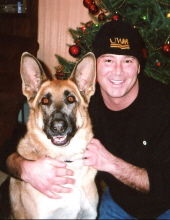 Obituary for Craig R. 'Gus' Osness
The clock of life is wound but once
And no man has the power
To tell just when the hands will stop
At late or early hour.
Now is the only time you own.
Live, love, toil with a will.
Place no faith in time.
For the clock may soon be still.

After a short life, well lived, Craig Robert "Gus" Osness passed away unexpectedly at home of natural causes on August 11, 2019. A home he referred to as the "best place on earth" – where he was able to sit back, see the stars, hear the sounds of nature and be at peace.

Craig was born June 6, 1967 in Merrill, son of the late Faye Jean (Travis) and David Osness.
He was a 1985 graduate of Merrill Senior High School. He furthered his education at UW-Eau Claire, UW-Madison and UW-Milwaukee. Craig graduated from the UW-Madison School of Pharmacy in 1991 and earned a Bachelor of Business Administration degree in 1998. He worked as a retail pharmacist for many years in the Milwaukee, Wausau and Merrill areas.

Beginning at an early age Craig was an avid sports fan. He was a talented baseball player earning recognition as a high school all-conference centerfielder. Craig also enjoyed many years of success in both youth and high school wrestling.

There are no words to capture the zest Craig had for life. He was a true Badger, Brewer, Packer and Bucks fan, who stood with his teams in both good times and bad. He often enjoyed these games from the "best seats in the house"!

Craig had a deep appreciation, and keen enjoyment of the beautiful land and wildlife surrounding his family homestead. In his younger years, he enjoyed snowmobiling, deer hunting and spending time with family and friends at the hunting shack. Craig shared a love of the outdoors with his Dad, spending many hours out in the woods peeling popple and picking boughs. He also enjoyed spending time with family, Sunday dinners and summer cook-outs.

Craig's enthusiasm for life drew others to him. He was blessed with an abundance of life-long friends. Craig had the ability to relate to people of all ages and walks of life. He never met a stranger that didn't become a friend.

Craig is survived by his sisters, Julie (Greg) Thorson and Johanna Osness both of Merrill; his brothers, Scott (Renee) Osness of Wausau and Keith Osness of Sugar Land, Texas. He is further survived by his niece, Melissa Osness of Wausau; nephews, Logan Osness of Madison and Ivan "Vanya" Thorson of Merrill; godson, Tyson Ott of Merrill; and aunts, Barbara Hanson, Patsy Travis, Betty Latzig, Elayne (Richard) Ollmann, Janet Beyer-Thums, Phyllis (Ralph) Buch, Carol Osness, and Carol J. Osness all of Merrill and Darlene Osness of Wausau. Craig is also survived by many cousins. Craig was preceded in death by his parents, David and Faye Jean Osness; sister, Anne Marie Osness in infancy; and faithful German Shepherds, Heidi and Anja.

A memorial service for Craig will be held at 11:00 A.M. Saturday, August 17, 2019 at Our Saviour's Lutheran Church, Merrill. Pastor Patricia Schutz will preside. Visitation will be from 4:00 P.M. until 7:00 P.M. Friday and from 9:30 A.M until the time of services on Saturday, all at the church. Burial will take place at a later date at Merrill Memorial Park Cemetery. Taylor-Stine Funeral Home & Cremation Services, Merrill, is assisting the family.

The family would like to express their gratitude to extended family and friends for their continuous love and support during this time.

In lieu of flowers, memorials may be directed to Lincoln County Humane Society.
Read More
Previous Events
Visitation
Our Saviour's Lutheran Church
300 Logan st.
Merrill, WI 54452
Visitation
Our Saviour's Lutheran Church
300 Logan st.
Merrill, WI 54452
Service
Our Saviour's Lutheran Church
300 Logan st.
Merrill, WI 54452