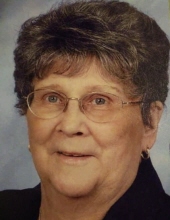 Obituary for Connie Jean Duframe
Connie J. Duframe, age 90, passed away on Saturday, November 14, 2020 at Pine Crest Nursing Home, Merrill.

Connie was born September 17, 1930 in Merrill, daughter of the late George and Mary (Walker) Jankowsky. She married Edward Duframe on June 29, 1951 in Milwaukee. He preceded her in death on November 17, 2006. Connie was a cook's aid at Trinity Lutheran School in Merrill for many years, and previously was the head cook at a Lutheran school in the Milwaukee area. Connie was a very social person. She enjoyed cooking, making crafts, gardening, and polka dancing with Ed.

Connie is survived by her two children, Tina and Steven Duframe, both of Merrill; two granddaughters, Anaiah (Clint) Heckt of Swanville, Minnesota, and Neal Haimerl of Richland Center, Wisconsin; one grandson, Austin Duframe of Merrill; seven great grandchildren, Isaiah, Ayden, Kylie, Jamie, Jimmy, Leah, and Riley; and one great great grandson, Tate. Besides her husband and parents, Connie is preceded in death by three siblings, Georgene (Max) Krembs, Mary Ann (Harry) Duframe, and Joe (Dorothy) Jankowsky.

A private family funeral service will be held. Burial will take place in Snow Hill Cemetery, Town of Scott. The Taylor-Stine Funeral Home & Cremation Services, Merrill is assisting the family. Online condolences may be made at www.taylorstinefuneralhome.com.
Read More