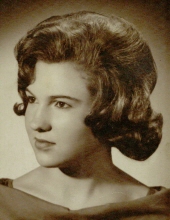 Obituary for Charlene 'Chicky' Voigt
Charlene Voigt, affectionately known as 'Chicky' quietly passed away at the age of 69 in the early hours of Saturday, May 28th, at Pine Crest Nursing Home in Merrill, WI. She lived most of her life on her hobby farm in Ringle, WI, leaving a lasting legacy of love and the memory of a welcoming heart to family members and friends who needed an open hearth and safe haven. Being the matriarch of the family, many a holiday was spent gathering at her table or lounging in her extraordinarily beautiful gardens. Chicky was also an amateur dog and bird breeder and her knowledge of animal husbandry and nature was amazing and often a legend within the family.

Chicky was preceded in death by her sister, Margaret 'Peggy' Gulke Garner Bohnsack of Appleton; her father, Richard 'Dick" Gulke of Merrill; and her mother, Joyce Gulke Stieber of Wausau. Surviving are her two sons, Jeffrey Voigt of Merrill and Jim and his longtime partner Gigi Heinz, also of Merrill; as well as loving grandchildren, Brooke and Austin. Chicky's "Knight in Shining Armor" and constant companion was Collin Ryan of Wausau, who is a true and loyal friend. Other caring family members are: sister, Bobbi Doerr, husband Michael and daughter Lydia of Sturgeon Bay, WI; and niece, Thalia 'TJ' Radey of Idaho and daughters Amber and Cassey; niece, Erica Imhoff, husband Gary of Wausau and their daughter Shelby. All family members both close and extended share in their love for Chicky.

Chicky had a diverse employment career working in the service industry for a time in her younger years and then long term employment at Hammerblow Corp for some 30 years. After semi-retiring, she went on to work for in-home care services, giving care and comfort to the elderly.

The family would like to thank the staff at Pine Crest Nursing Home and all those who cared for Chicky during her illness.

A memorial service for Chicky will be held at 1:00 p.m. Saturday, June 4, 2016 at the Taylor-Stine Funeral Home, Merrill. The family will receive friends beginning at 11:00 a.m. Saturday at the funeral home.
Read More
Previous Events
Visitation
Taylor-Stine Funeral Home & Cremation Services
903 E. Third Street
Merrill, WI 54452
Service
Taylor-Stine Funeral Home & Cremation Services
903 E. Third Street
Merrill, WI 54452