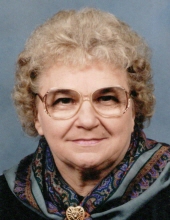 Obituary for Ceora P. Sabatke
Ceora Phyllis Mae (Haffemann) Sabatke, age 90, went to her forever home on April 26, 2018 at Pine Crest Nursing Home, Merrill, with her family and Pastor at her side.

Ceora was born on January 26, 1928, to Roy and Leona (Grawien) Haffemann at her grandparents' home in Marathon County. It was a very snowy day and the Town of Berlin snowplow had to make a path for the doctor to get to the house. Ceora was raised in the country and went to a one-room school until she graduated 8th grade. Shortly after she graduated, her family moved to Merrill. Ceora then attended the Merrill Vocational School where she learned her cooking and sewing skills. Ceora began her working career working at Fromm Brothers at the age of 14. She also worked at Milt's Café in Merrill while attending vocational school. At 16, Ceora became a fulltime waitress at the Badger Hotel in Merrill. During her married years, she would occasionally help her mother cook at the Legion Lounge and at the family owned Cozy Corner Café. She would also help manage her in-laws tavern business at Sabatke's Bar on Highway 64.

On September 20, 1947, Ceora married Gilbert Sabatke at Trinity Lutheran Church in Merrill. She then became a devoted housewife. She was a faithful and loving wife and mother. Together they had 5 children. She was always making sure that the meals she served her family and guests were made perfect and with love. Ceora was a person of great faith and belonged to Trinity Lutheran Church for 75 years. Ceora and Gilbert made sure all of their children received a Christian education and were raised in a Christian home. Ceora belonged to the 6th Ward Circle and Trinity Altar Guild. These were two of her joys in life and she never missed a meeting. Ceora also loved animals, playing cards, reading books, doing crossword puzzles, singing and talking with people, even if they were strangers. Her favorite was cooking meals for anyone that wanted to come and visit and taking care of her grandchildren. The cousin card parties were some of her most memorable times and she often, in later years, would tell her children about the good times they had. You never went home hungry if you visited her home. She always enjoyed her morning cup of coffee and never missed watching her favorite Johnny Carson at night. A big day for her to celebrate was her birthday as she shared that special day with her granddaughter, Jillian.

Ceora is survived by her children, Sandy (Sabatke) and Mark Ewan of Athens, Steven and Cindy Sabatke of Merrill, and Deborah (Sabatke) Harris of Merrill and special friend Barry Haff. Her grandchildren, Jeff and Dr. Amy Ewan of Weston, Jayna (Ewan) and Cory Brunke of Athens, Pennie (Sabatke) and Mike Sladky of Aniwa, Jordan and Becky Hensel of Kronenwetter, Paige Sabatke of Boston, Massachusetts, Jillian Ewan of Athens, Rachel Sabatke of DePere, and Cameron Hensel of Merrill and special friend Kendra Stevens. Her sister, Lenore English of Merrill and her sister-in-law, Carol Haffemann of Wausau. Her great-grandchildren, Colton Sladky, Elianna Sladky, Gavin Sladky, Lena Sladky, Lawson Sladky of Aniwa, Kylie Ewan of Weston, and Carter Brunke of Athens. Ceora is further survived by three nieces, four nephews and many cousins.

She was preceded in death by her parents, Roy and Leona (Grawien) Haffemann; her husband, Gilbert; daughter, Darlene (Sabatke) Schmitt and son-in-law Larry Schmitt; son, Duwayne 'Butch' Sabatke; in-laws, Norman and Elsie Sabatke; brother, Orville Haffemann; brother-in-law, Roger 'Budda' English; grandsons, Mark Ewan and Michael Ewan; and great-grandson, Jacob Sabatke.

The funeral service for Ceora will be held at 11:00 A.M. Wednesday, May 2, 2018 at Trinity Lutheran Church, Merrill. Rev. Scott Gustafson will officiate. Burial will take place in Merrill Memorial Park Cemetery. Visitation will be from 4:00 P.M. until 7:00 P.M. Tuesday, May 1st and after 9:00 A.M. Wednesday, May 2nd all at the church. Taylor-Stine Funeral Home & Cremation Services, Merrill, is assisting the family with arrangements. Online condolences may be made at www.taylorstinefuneralhome.com

Ceora's family would like to thank the staff at Pine Crest Nursing Home for the care she was given over the last eight years. They helped to make her feel at home and it gave her family great comfort to know that Ceora loved so many of them and became happy living there. We also wish to thank Dr. Barbara Crapster-Pregont and Aspirus Comfort Care & Hospice Services for their help and kindness shown to our Mom. Words cannot express our gratitude to this team of people who took such good care of our Mom.
Read More
Previous Events
Visitation
Trinity Lutheran Church
107 North State Street
Merrill, WI 54452
Visitation
Trinity Lutheran Church
107 North State Street
Merrill, WI 54452
Service
Trinity Lutheran Church
107 North State Street
Merrill, WI 54452