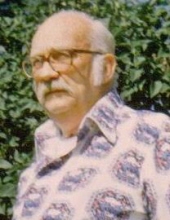 Obituary for Cecil O. Harris
Cecil Oliver 'C.O.' Harris passed away at age 95 on August 25, 2016 at LindenGrove Health Care in Waukesha, WI. He was born February 22, 1921 in Crandon, WI to Roy and Leone (Roberts) Harris. He married Virginia (Jean) Doughty in March of 1940. She preceded him in death October 3, 1986. He married Gloria Halla January 30, 1989.

He joined the CCC's in 1937, attended Camp Estabrook in Milwaukee, WI and Camp Madison in Madison, WI in 1938.

In 1940 he joined the Army and was stationed in Fort Brady, Sault Ste. Marie, MI, Camp Grant, IL and Fort Custer, MI. From October 1942 to 1945 he was stationed in the South Pacific and spent time in New Caledonia, Efate, New Hebrides (where he was promoted from Sgt to 1st Sgt), Guadalcanal, the Solomon Islands, Tinian and the Mariannas Islands.

In 1945, he was discharged and returned to the U.S. In 1946, he went to Carroll College in Waukesha, WI for 2 years while also working as a news photographer for the Waukesha Freeman. In 1947 he became a youth counselor at the Industrial School for Boys in Waukesha, WI. He became a terminal manager in 1955 for Royal Transit in Waukesha, WI. In 1960, he was hired as a youth counselor at Wisconsin School for Boys in Wales, WI. While working there he was also a free lance writer/photographer for the Waukesha Freeman newspaper.

In 1970 he was transferred from Wales to the Lincoln School for Boys (now Lincoln Hills) in Irma, WI as a shift supervisor where he also continued his freelance work and was published in 22 State and National publications (including National Wildlife, Funk & Wagnall, Yankee Magazine, Ridge Press Inc, Harcourt, Brace & World, Hunting Dog Magazine, WI Natural Resources Magazine, WI Agriculturist, WI Sportsman, Hook & Shell, Milwaukee Journal and Sentinel newspapers, Minnesota Sportsman, Waukesha Freeman newspaper, Foto News in Merrill, WI and many more).

Throughout his life his hobbies included photography, hunting, fishing and trapping, and falconry hunting. When hunting with falcons was legalized in the state of Wisconsin, Cecil was issued license #4. He also liked wood carving wildlife and building birdhouses. In 1984 he retired from the WI Division of Corrections. He moved back to Waukesha, WI in 1987 and worked for the YWCA until 1992, and then worked for the Waukesha Humane Society until 1994. He loved having his family and friends visit him.

He is survived by his wife Gloria and family, his sons, Michael (Sharon) Harris, Merrill, WI and Rick Harris, Mineral Point, WI and his sister, Betty Sayles of Coupeville, WA. He also leaves behind his 8 grandchildren; Monique (James) Lloyd, Colette (Mike) Wilde, TJ Harris, Noelle (Pete) Juaregui, Robin Harris, Michael (Angie) Harris, Kelly Harris, and Kerry (Nina) Harris. Additionally he leaves behind 10 great grandchildren, Lisa, Shannah, Amanda, Elena, Mya, Ahna, Pete Jr, Ian, Sergio and Roman; and one great-great grandchild, Leo Cecil, on the way.

Visitation will be at Taylor-Stine Funeral Home on Monday, August 29, 2016, from 4:00 PM until 7:00 PM. After cremation, there will be private family graveside services with military rites as he is interred in the Harris family plot at Graceland Cemetery in Clintonville, WI.

The Harris Family suggests that memorials be directed to the Waukesha County Humane Society.

Online condolences may be made at www.taylorstinefuneralhome.com.
Read More
Previous Events
Visitation
Taylor-Stine Funeral Home & Cremation Services
903 E. Third Street
Merrill, WI 54452
Cemetery Details
Location
Graceland Cemetery
320 S Main St
Clintonville, WI 54929