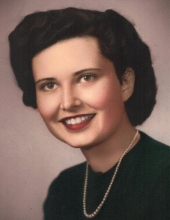 Obituary for Carolyn M. Meyers
Carolyn M. Meyers, 87, of Merrill, passed away Wednesday, April 5, 2023, at Woodland Court Elder Services, Merrill.
Carolyn was born November 15, 1935, in Norfolk, Nebraska, daughter of the late Carl and Hattie (Buss) Finup. She married the love of her life Dale Meyers March 18, 1955, at St. Stephen's Ev. Lutheran Church in Beaver Dam. They recently celebrated their sixty-eighth wedding anniversary. Carolyn was a legal secretary and was also a campaign manager for State Representative Sheehan Donoghue. She held a position on the Accounting Examiner's Board for many years under Governor Lee Dreyfus. Carolyn enjoyed reading, crosswords, cross stitch, and chocolate. She was a devoted daughter, sister, wife, mother, grandmother, great-grandmother, and loyal friend. Carolyn was the glue that held her family together. Her greatest joy in life was spending time with her grandchildren and great-grandchildren.
Carolyn is survived by her husband of sixty-eight years, Dale Meyers of Merrill; daughters, Kimberley (Phillip) Walker of Antigo and June Bebel (Scott Mueller) of Beaver Dam; grandchildren, Cortney, Casey, Savannah, Serena, Taylor, and Carley; and great-grandchildren, Adrianna, Braxton, Anthony, Addison, Parker, and Veda. Carolyn was preceded in death by her parents, Carl and Hattie Finup; daughter, Toni Marie Meyers; son, Elliott Robert Meyers; sister, Judy Meyer; and brother, Donald Finup.
A celebration of life will be held at a later date. Taylor-Stine Funeral Home & Cremation Services, Merrill, is assisting the family.
Carolyn's family would like to thank the staff with Aspirus Comfort Care & Hospice for their professional and personal care. They would also like to thank the staff at Woodland Court for making her feel at home and treating Carolyn like family.
Online condolences may be made at www.taylorstinefuneralhome.com
Read More