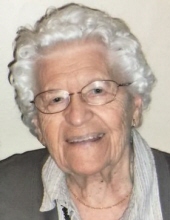 Obituary for Caroline M. Froehlich
Caroline M. Froehlich, age 101, of Merrill, passed away Wednesday, November 18, 2020 at Pine Crest Nursing Home, Merrill.

Caroline (Carol/Mimi/Gram) was born June 22, 1919, in Merrill and was the7th of 9 children born to Otto and Marie (Plautz) Wais. She married Alexander G. Froehlich on April 6, 1940. He preceded her in death on October 2, 1994. Carol attended St. John Lutheran School before graduating from Merrill High School. She was a life-long member of St. John Lutheran Church and a member of the "Friendship Circle". She was employed at the Weinbrenner Shoe Company, then was a Homemaker and a Child Care Provider until her children were grown. Then she was employed at Gibson and Pamida stores.

Among her many hobbies, Carol's favorite were; ice skating, gardening, playing cards, crossword puzzles, reading, sewing, John Wayne movies, and writing letters. She wrote many letters to her brothers who were in the service stationed overseas and to a sister who worked for the U.S. government in Germany. She also spent a lot of postage writing to her daughters, grandchildren and sister in California.

Survivors include her daughter, Kay (Norbert) of Arlington Heights, Illinois; many nieces and nephews; six grandchildren, Laurie Searing, Lisa Searing (Jay Platta), N. Clayton Duba (Angela), Clinton Duba (Nicole), Gavin Duba (Kristin) and Stephanie Duba-Buchanio (Michael); and ten great grandchildren, Alexis, Crystal, Michael, Ilyse, Evelyn Caroline, Avery, Kayli, Sam, Quinn and Payton Kay.

Carol was preceded in death by her husband, Alexander Froehlich; daughter, Ann Krueger; sons-in-law, Jerome 'Jerry' Searing and LaVern 'Teddy' Krueger; and siblings, Evelyn Wais, Gilbert Wais, Lucille Wais, Isabelle Wais, Norman Wais, Lorenz 'Tarz' (June) Wais, Arthur (Myrtle) Wais, Margaret Wais Hypes (Kenton).

Taylor-Stine Funeral Home & Cremation Services, Merrill is assisting the family.

A funeral and celebration of Caroline's life is being planned for late spring 2021.
Read More
Events
Event Information
Services will be set for a future date to be determined.