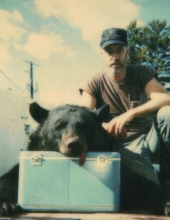 Obituary for Carl J. H. Pophal, Jr.
Carl J. H. Pophal, Jr., 76, of Merrill, passed away Saturday, January 14, 2023, at Aspirus Wausau Hospital.

Carl was born May 30, 1946, in Merrill, son of the late Carl Pophal Sr. and Angeline (Nutter) Pophal. He married Audrey Hanson on November 12, 1966, in Merrill. She survives. Carl served his country in the National Guard. He worked in maintenance at Merrill Manufacturing for 30 years and retired in 2007. Prior to his time with Merrill Manufacturing, Carl had worked at Pine Crest Nursing Home, the former Anson Gilkey, the former Semco, along with a paper mill in Appleton.

Carl enjoyed spending time with this family. He loved hanging out with his grandkids and great grandkids and teaching them new things. Carl liked traveling including visits to Illinois, Kentucky, Tennessee and Niagara Falls and he enjoyed the trip with Diane and Bob in the motor home. He especially enjoyed hunting, whether it was raccoon, squirrel, elk, deer or bear hunting, he enjoyed it all. He had a great time hunting in Colorado and bear hunting in Tripoli. Carl enjoyed fishing, canoeing, camping, driving his 4-wheeler, and racing go-karts, cars and mud trucks. He enjoyed sharing the many stories of his life experiences with family and friends.

Survivors include his wife, Audrey Pophal of Merrill; children, Carl 'Butch' (Penny) Pophal III, Audra (Mike) Bohman, Keith Pophal, and Kevin Pophal (fiancée Lisa Beresford); all of Merrill; ten grandchildren, Pamuela (Mike) Albrecht, Jason (Taylor) Pophal, Beth (Josh) Maurisak, Kyle (Abby) Bohman, MiKayla Bohman, Jonathan Summerfeldt, Brandon (Allison) Pophal, Aiden Koebe, Stephen Pophal, and Alexia Pophal; eleven great-grandchildren, Grant, Markus, Colleen, Lexi, Emily, Kathryn, Hunter, Kenna, Alivia, Leo, and Matthew; sister, Beverly Kleist of Merrill; sister-in-law, Trude Pophal of Minnesota; brother-in-law, Paul Mussell of Merrill; and many nieces and nephews.

Carl was preceded in death by his parents, Carl Pophal Sr. and Angeline Pophal; granddaughter, Danielle 'Dani Rae' Pophal; great-granddaughter, Destiny Albrecht; and siblings, Betty Jane (Lawrence 'Shorty' Knoll Sr.) Knoll, Margie Mae (Roger) Young, Phyllis Mussell, Nancy Pophal, Judith (David) Kleinschmidt, Robert Pophal, David Pophal, and Jean Ann Wojcik.

A memorial visitation for Carl will be held from 1:00 P.M. until 4:00 P.M., Saturday, January 21, 2023, at the Taylor-Stine Funeral Home, Merrill.
Read More
Previous Events
Visitation
Taylor-Stine Funeral Home
903 E. Third St.
Merrill, WI 54452