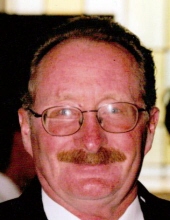 Obituary for Brian H. Seefeld
Brian Heldt Seefeld, age 69, died July 23, 2016.

Brian was born October 4, 1946, son of the late Robert and Corleen (Heldt/Oelke) Seefeld, Sr., and lived in the town of Berlin for his entire life. He is survived by his three daughters, Amanda (Jake) Sabatke, Heidi Seefeld, and Erin (Neal) Scibelli; granddaughter Isabelle Sabatke and grandson Theodore Scibelli (born 07/25/16); siblings Sally Graap (with, Steve Radke), Bruce (Sandy) Seefeld, Corleen Olmstad (with, Gary Bombagi), Robert (Marilyn) Seefeld, and Toby Seefeld.

Brian's greatest passion in life was his farm and the animals he raised. Brian graduated from the University of Wisconsin-River Falls with majors in Horticulture and Agra-Business. He was then drafted by the Army. When his father died in 1969, Brian was released from service to his country, came home, and took over the family farm.

He earned respect in agriculture from his excellence in breeding livestock using the Brianair registration. He received many awards from the associations he was part of: American Border Leicester, Ameraucana Breeders Club, American Dairy Goat, Wisconsin Working Stock Dog, Holstein-Friesian Association of America, Wisconsin Sheep Breeders Cooperative, and Belgian Horse Corporation of America.

Brian was also part of the AFS intercultural program, housing two foreign exchange students (Turkmenistan and Uzbekistan). He was also a 4-H project leader and enjoyed being part of a fiddling group.

Brian was well known throughout the community and will be truly missed.

A celebration of Brian's life for family and friends will be held on Sunday, September 4, 2016, at the Berlin Center, 11248 Berlin Lane, Athens, WI starting at 12:30 PM. Lunch will be provided.

Online condolences may be made at www.taylorstinefuneralhome.com.
Read More