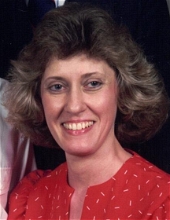 Obituary for Bonita E. H. McClure
Bonita McClure, 76, of Merrill, passed away on Sunday, April 30, 2023, at her home, under the care of Compassus Hospice and her family.
Bonita was born June 20, 1946, in Greenville, South Carolina, daughter of the late Samuel and Ruth (Johnson) Harvell Greene.
After graduating from Bradley Central High School, Cleveland, Tennessee, she landed her first job as office manager for a construction company. Other work experience included secretary in the Church of God World Missions Department; sales associate for JCPenney; Hardee's, where she worked her way up to assistant manager; and most recently cemetery office manager at Woodlawn Memorial Park and Funeral Home.
In the fall of 1967, Bonita met David McClure. After a whirlwind romance they were married on June 15, 1968. Bonita and David lived in many locations due to David's work in the ministry. In their 55 years of marriage, they spent time living in Tennessee, the Republic of Panama, Hawaii, Wisconsin, South Carolina, and Florida. As a pastor's wife, she served in many positions of local church ministry.
Bonita was a devoted wife and mother; she loved her husband and son unconditionally. She was a wonderful homemaker and skilled seamstress, making suits for David and other complicated pieces. Her other interests included reading, gardening, travel, and ancestry research of her family.
Bonita is survived by her husband, David McClure of Merrill; son, Philip McClure of Colby; sister, Becky (Jerry) Weir of Knoxville, Tennessee; and other extended family members. She was preceded in death by her parents, Samuel and Ruth Harvell Greene; and brother, Basil 'Chuck' Harvell.
The memorial service and inurnment will take place at 11:30 A.M., Saturday, May 20, 2023, in Serenity Mausoleum at Woodlawn Memorial Park in Greenville, South Carolina. Taylor-Stine Funeral Home & Cremation Services, Merrill, is assisting the family.
Online condolences may be made at www.taylorstinefuneralhome.com
Read More