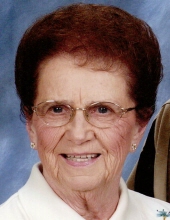 Obituary for Audrey D. Leider
Audrey D. Leider, 86, of Tomahawk passed away February 15, 2017.

Audrey was born March 5, 1930, in the Town of Berlin, Marathon County, daughter of the late Lester and Alice (Graveen) Borchardt. She married Wilbert A. 'Willie' Leider on October 9, 1948. He preceded her in death on December 30, 2008. Audrey assisted her husband with their business "Willie's Tire Center" in Merrill. She enjoyed spending time with her family and adored her grandchildren and great-grandchildren.

Survivors include her son, Gary (Gera) Leider of Merrill; three grandchildren, Stacy (Jesse) Bolder of Tomahawk, Steve (Dani) Leider of Merrill and Jennifer (Justin) Pollnow of Chandler, Arizona; six great-grandchildren, Kevin, Drew, Brayden, Brooklyn, Brystol and Preston; a sister, Marilyn (James) Kriehn of Marathon; and a niece, Debbie (Bruce) Smith of Wausau. Audrey was preceded in death by her husband, Willie Leider; her parents, Lester and Alice Borchardt; and a nephew, Jeff Kriehn.

A private funeral service will be held. Taylor-Stine Funeral Home & Cremation Services is assisting the family with arrangements.
Read More
Events