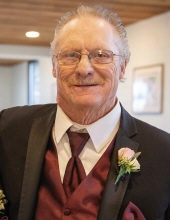 Obituary for Arlyn G. Schade
Arlyn G. Schade, Sr., age 76 of Merrill, passed away on Tuesday, June 15, 2021, at his home surrounded by his loving family.

Arlyn was born June 11, 1945, in Wausau, son of the late Adelbert and Eleanore (Blaubach) Schade. He graduated from Marathon High School. On January 27, 1968, he married Barbara Erdman at Trinity Lutheran Church in Wausau. His occupations included a delivery driver and route sales representative. Arlyn retired from Standard Oil. Arlyn was a member of Faith Lutheran Church, Village of Maine.

He was the proud owner of the Rock Garden Estates. Arlyn enjoyed gardening and tending to his yard. He looked forward to spending time with his family, during holidays and get togethers. He also enjoyed attending school events and sports with his grandchildren and great grandchildren. Some of his favorite past times include watching old westerns, playing Aggravation, and playing Sheeps Head with his family.

Arlyn is survived by his wife, Barbara Schade of Merrill; three daughters, Theresa (Gordon) Smukowski, Amy (Warren) Yeskis, and Sarah (Duane) Wenzelow, all of Merrill; and two sons, Brian (Mollie) Schade of Wausau, and Alrlyn Schade, Jr. (Deb) of Kronenwetter. Arlyn was the proud grandparent of Derek, Hunter, Vivian, Shelby, Jordan, Mikayla, Samantha, Dawson, Anna, Angelique, George, Selena, Alexander, and Joseph; and seven great-grandchildren, Matthew, Sophia, Addyson, Daxton, Lucas, Gabriel, and Zariyah. He is further survived by two sisters, Marjorie Raddatz and Annabelle Kurth, both of Wausau; and two brothers, Harold (Elaine) Schade of Land O' Lakes, and LaVerne Schade of Wausau. Arlyn held his friends in highest regards. Arlyn was preceded in death by his parents; one sister-in-law, Kaye Schade; and two brothers-in-law, David Raddatz and Dale Kurth.

A private family funeral service was held. Burial of Arlyn's cremated remains will take place at a later date in Zion Lutheran Cemetery, Town of Stettin, Marathon County. The Taylor-Stine Funeral Home & Cremation Services, Merrill is assisting the family. Online condolences may be made at www.taylorstinefuneralhome.com.

The family would like to thank the Aspirus Comfort Care & Hospice Services staff for their heartfelt care and support.

The Schade Family has requested that memorials be directed to Faith Lutheran Church, 15425 S. Hwy. K, Merrill, WI 54452.
Read More