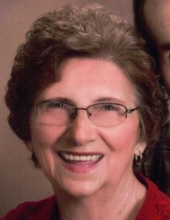 Obituary for Arlene Marie Voigt
Arlene Marie Voigt, 77, of Merrill, passed away on Wednesday, October 19, 2022, at her home.
Arlene was born on November 13, 1944, in Wisconsin, daughter of the late Leo and Gladys (Beyersdorff) Uekert. Arlene graduated from Marathon High School at the top of her class. She married Ralph Voigt on September 11, 1965, at St. John's Lutheran Church in Rib Falls. He preceded her in death on March 5, 2022. Arlene worked at Wausau Insurance Company and the Merrill Cannery in her earlier years. After the birth of her children, she provided in-home daycare for many families in Merrill. This is a job that she loved very much; the children she watched became a very special part of her life. Arlene enjoyed reading, watching TV programs, taking walks, and spending time with her family and friends.
Arlene is survived by her daughter, Carmen Voigt (David Taggart) of Merrill; son, Ralph L. (Tina) Voigt of Galesville; granddaughter, Molly Kleinschmidt (Nikolai Mueth) of Merrill; sisters-in-law, Dawn (Gerald) Schmidt of Merrill, Darlene (David) Herdt of Merrill, Carol Pankow of Merrill, Shirley Hopkins of Wausau, and Phyllis Voigt of Merrill; brothers-in-law, Wayne (Virginia) Voigt of Merrill, LaVerne (Linda) Voigt of Merrill, and Mike Voigt of Texas; special daycare children, Ben Bonke, Tim Jahnke, Samantha (Jahnke) Klemp, Dominic Greenlee, Miles Greenlee, and Michelle Tlusty; and many nieces, nephews, and friends. Arlene was preceded in death by her husband, Ralph Voigt; parents, Leo and Gladys Uekert; brother, Donald (Carol) Uekert; and brothers-in-law, James Voigt, Gene Voigt, and Mark Pankow.
A memorial service for Arlene and Ralph will be held at 11:00 A.M. on Saturday, November 12, 2022, at St. John Lutheran Church in Merrill. The Rev. David Szeto will officiate. Visitation will begin at 10:00 A.M. at the church. Taylor-Stine Funeral Home & Cremation Services, Merrill, is assisting the family.
Online condolences may be made at www.taylorstinefuneralhome.com
Read More
Previous Events
Visitation
St. John Lutheran Church
1104 E. Third St.
Merrill, WI 54452
Service
St. John Lutheran Church
1104 E. Third St.
Merrill, WI 54452