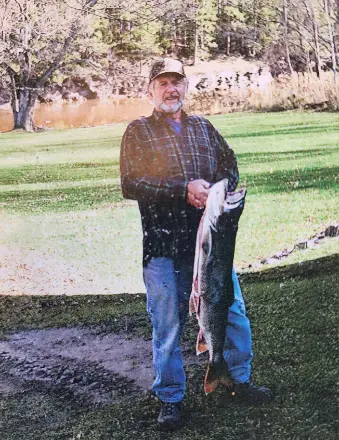 Obituary for Andrew C. Zogg
Andrew C. Zogg, 91, of Merrill, passed away Monday, September 18, 2023, at Pine Crest Nursing Home, Merrill.

Andy was born July 28, 1932, in the Town of Hamburg, Marathon County, son of the late Florian and Bertha (Wittwer) Zogg. Andy enlisted in the United States Navy on October 20, 1955, and was honorably discharged on October 15, 1959. He worked at the former Ward Paper Company in Merrill for 25 years. Andy lived for many years on the Wisconsin River in the Mathews Road area of Lincoln County. After he retired, he moved to Silver City, Michigan and lived on the Big Iron River. He lived there for 25 years and then moved to Port St. Joe, Florida. He spent four years in Florida and moved back to Merrill in 2017. His neighbors from Mathews Road in Merrill were like family to Andy. When they moved to Michigan, so did Andy. When they moved to Florida, so did Andy.


Andy enjoyed hunting, kayaking, fishing, and using his boat on Lake Superior. He enjoyed flowers and gardening, spending time outdoors, and the change of seasons. He also enjoyed photography and music.


Survivors include his brother, Paul Zogg of Avon, Montana; brothers-in-law, Ervin Steen of Rib Lake and Eugene Stahel of Wausau; nieces and nephews, Holly Zogg-Fuller of Montana, Debbie Byrd of Rib Lake, Brian Steen of Rib Lake, Lynn Wegner of Merrill, Cindy Steen of Dorchester, Laurie Wegner of Merrill, Evan Woller of Merrill, Marlon Woller of Merrill, Vicki Lipka of Merrillan, Donica Byrns of Merrillan, Alina Limberg of Merrillan, Steve Stahel of Tomahawk, and Sheila Klug of Merrill; and many great nieces and great nephews. Andy was preceded in death by his parents, Florian and Bertha Zogg; sisters and brothers-in-law, Mary Stahel, Alice Steen, Joyce (Leroy) Woller, Elizabeth 'Betty' (Victor) Lipka; nieces, Lynette Zogg and Sherri Pfaff; and nephew, Brad Zogg.

The memorial service for Andy will be held at 11:00 A.M., Saturday, September 23, 2023, at St. Stephens United Church of Christ, Merrill. Rev. Michael Southcombe will officiate. The family will receive friends at church on Saturday beginning at 10:00 A.M. Taylor-Stine Funeral Home & Cremation Services, Merrill, is assisting the family. Online condolences may be made at www.taylorstinefuneralhome.com
Read More
Previous Events
Visitation
St. Stephens United Church of Christ
903 E. Second St.
Merrill, WI 54452
Service
St. Stephens United Church of Christ
903 E. Second St.
Merrill, WI 54452