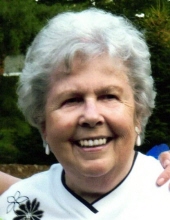 Obituary for Alma Jean 'Jean' Schulz
Alma Jean 'Jean' Schulz, 92, of Tomahawk passed away on Thursday, February 10, 2022, at Milestone Senior Living. She was under the care of her family, the Milestone Senior Living staff, and Compassus Hospice Services.

Jean was born on December 27, 1929, in Tomahawk, Wisconsin. She was the first born of the late Bruno and Ella (Nyberg) Kahle. Jean grew up on the family farm and graduated from Tomahawk High School in 1947. She married the love of her life, Donald Schulz, on October 11, 1952, at First Presbyterian Church in Merrill. They shared fifty wonderful years together, forty-five in Irma and five in Tomahawk prior to his death in 2002.

Jean worked for Hufschmid Bros. in Tomahawk in her earlier years. Later on, she worked as a bookkeeper and secretary for Van Der Geest Livestock, Nicklaus Enterprises Inc., and part-time at Tomahawk Sports Center. In addition to this she was also the Town of Birch Treasurer for twenty-eight years. Jean enjoyed gardening, traveling with her late husband, and spending time with her family, especially her grandchildren.

Jean is survived by her daughters, Kathy Schulz, Cindy (Chuck) Medinger, and Judy (Chris Bonin) Schulz; grandchildren, Joelle Olson, Tana Evans, Stacy Maner, and Cole Brooks; nine great-grandchildren; sister, Rita Hilgendorf; and brother, William 'Bill' Kahle. Jean was preceded in death by her husband, Donald Schulz; parents, Bruno and Ella Kahle; daughter, Susan Schulz; and brother, Norm Kahle.

A private funeral service will be held and burial will take place in Merrill Memorial Park Cemetery. Taylor-Stine Funeral Home & Cremation Services, Merrill, assisted the family.

The family would like to thank Milestone Senior Living and Compassus Hospice Service for their compassionate care for mom.
Read More
Events