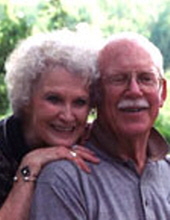 Obituary for Alice 'AJ' O'Day
Alice Jane 'AJ' Hamlin O'Day

Alice Jane, also known as 'AJ', was the first of twelve children born to James Harvey
Hamlin and Margaret Running, born on 15 Mar 1929 at Holy Cross Hospital in Merrill, WI. She
returned home with her parents to 404.5 Blaine Street, upstairs from her paternal great aunt
who looked after AJ and the next four of her siblings. By the time she reached school age, the
growing family moved to 301 N. Genesee St. to be close to Franklin School where her dad
knew most of the teachers from when he was Superintendent of the Country Schools. She was always disappointed that her dad made her stand kitty-corner from the playground until the last bell so "she wasn't troubling the teachers."

When she reached sixth grade, the family was so large they needed a new home and
moved to 402 State St., still within walking distance of Franklin School. As the eldest she felt
her job was to teach the younger sisters and brothers "the ropes" which they of course chose
to ignore, a memory which stuck with her. She often reminisced about the last-day-of-school
parties hosted by her mom to send all of the Franklin School students off with a fun
experience.

In high school where classmates were pairing off into likely future marriages, a new guy
showed up. And while the guys saw Jim O'Day as a great addition to the MHS sports program,
she saw him as date potential and asked him to the turnabout dance in their sophomore year.
"Steadies" by junior year, the couple made plans for the future, which included him attending
Notre Dame University in South Bend Ind., and, not by her choice, she attended Airline Flight
School in Minneapolis, working as a nanny to pay for living expenses.
But when the Airline School bussed the students out to the airport at the conclusion of
classes to fill out applications for jobs in the air traffic control tower, the deceptively mild-mannered and obedient firstborn declared this was not for her and stomped out the
door. She returned to Merrill to help out at her parents' realestate, mortgage, insurance and abstract office before working at the T. B. Scott Library as Jim finished school. At least one weekend of each of his years there she took the train down to South Bend and he arranged for her to stay in a chaperoned boarding house so she could attend a football game and a dance with him at the school. She returned to South Bend for his graduation on 1 Jun 1952;
they joined in marriage on the 2nd in the University chapel in the presence of a few friends, Jim's parents, brother and aunt and uncle; and then left on their honeymoon tour of
Niagara Falls and Canada the next morning, 3 Jun - Jim's 23rd birthday. They returned to South Bend so Jim could enter the ND Master's program while AJ worked in the university library.

The first of their ten children was born in a blizzard during the university's Mardi Gras
celebration and with their family on the way, they headed back to Merrill at the end of the
school year to find work. Jim's plan was to teach at the Newman Catholic High School being
built in Wausau which wasn't quite ready for occupancy. So, the family moved to St. Cloud,
MN for the next year, where Jim took a job as a sports reporter for the St. Cloud newspaper.

AJ spent her days enjoying her "Little Lauree," while waiting for Kevin to come along. By
September of the next year, Newman was open and the O'Day family packed up for Wausau.
Many of Jim's students grew to love AJ as much as they loved their teacher.
The young family welcomed Megan, Kelly and Reghan before moving to Merrill in 1960, so
Jim could manage the family businesses: Quality Print Inc. and the Merrill Shopper's Guide.
With Cullen on the way, AJ made the transition smooth and easy for the entire family. Siobhan, Brendan, Kieran and Quinn arrived making her home a joyous, raucous, and love-filled packed house. She nurtured her children by making sure those interested in music lessons had the opportunity, took on the job of den mother for her boys to be scouts when there was no one else and chauffeured each of those kids to their activities and supported their participation in sports, music and theater over the next two decades. She was a CCD teacher, museum docent, Historical Society board member and proofreader extraordinaire for the Foto News.

She enjoyed walking, working out, "puttering" in her yard, reading and "Chapter-A-Day" on
public radio. She and Jim traveled, for business first and later for pleasure, visiting places like
the Bahamas, Sedona, Kauai, before settling in Georgetown, TX, for the last 8 years of their life together. She returned to Merrill in 2009 to be closer to family.

AJ reached her 91st birthday on the Ides of March this year at the home of her daughter,
where she passed away on 28 Mar 2020. She has the distinction of being the longest-lived
Hamlin in the family tree.

AJ mourned the passing of her husband, Jim, in 2007; their infant son, Kieran Patrick, in
1967; her father James Harvey Hamlin, in 1953, and mother Margaret Running Hamlin, in 1984; her in-laws, John "Jack" O'Day in 1960 and Eloise (Shafer) O'Day, in 1984, all of Merrill. She was preceded in death by her sister, Esther (Vernon) Wittkop of Wausau, in 2006; her halfsister, Grace Lorraine Liberty of Watersmeet, MI, in 1997; her half-brother, Edmund (Beatrice Moreland) in Rhinelander, in 1991; and two of her brothers, James of Merrill, in 2014, and Joseph (Lucille Krause) of Sturgis, MI, in 2017; two of her nephews, Scot Hamlin (son of William and Mary Lou [Van Norman]) of Eudora, KS, in 2010, and Sean O'Day of Marquette, MI, in 1980; and her son-in-law, Steve Walsh (married to daughter, Reghan) of Merrill, in 1979.

She is survived by sisters Elaine (Tom Schultz, deceased) of Augusta; Eunice (John
Langlois, deceased) of Colorado Springs, CO; Margaret (Tony Robl, deceased; Joseph Lato) of Thorp; and Claudia (James Roberts) of Merrill; and brothers, Reid (Lois Zoellner) of Oshkosh; William (Mary Lou Van Norman) of Eudora, KS; Donald (Elizabeth Gaudet) of Humble, TX; and Wayne of Rhinelander; and many nieces and nephews. She will be missed immeasurably by her daughters, Lauree and Megan (Tom Koth) of Merrill; Reghan (Steve Walsh, deceased) of Madison; and Siobhan (Ben Belghachi) of Washington, D.C.; and sons, Kevin (Susan Folkedahl) and Kelly, of Merrill; Cullen (Yuki Matsuura), of Reno, NV; Brendan of Milwaukee; and Quinn (Amy Pearson) of Wauwatosa; 12 grandchildren, and three great-grandchildren.

Arrangements are being handled by Taylor Stine Funeral Home of Merrill. A celebration of
AJ's life will be held at a later date when this COVID-19 pandemic craziness calms down. As
Jim would say, "Just relax."

Online condolences may be made at www.taylorstinefuneralhome.com.
Read More